Social Vulnerabilities and Change of Scale - Space Plays a Crucial Role!
Vulnérabilités sociales et changement d'échelle. L'espace compte !
If social vulnerability characterizes and impacts life at the individual scale, social structures enables its consequences to mitigate or amplify it, acting as a catalyst. How can a geographer be useful at this stage? A first answer could be obvious: providing a geography of vulnerable population, a description of their location, underlining the existence of hotspots of vulnerability… are always relevant to tackle some issues. Geographers can play with scales and spatializing as well as visualizing social phenomena. It allows to understand better their determinants and implications. The purpose of the article is then to go further, adding a second answer, less often highlighted than this one: space could play a significant role in the vulnerability process. Indeed, we consider that individual vulnerability - vertically integrated into groups, social structures, territorial units etc., is also partly or fully incorporated according to a spatial dimension, horizontally defined. The vulnerability of two individuals, all things being equal regarding their social integration, could be different according to their location and especially their environment. In other words, the living space of individuals is an actor of their vulnerability and should be analysed as such [Cutter and Finch, 2008]. We propose therefore to tackle the spatial analysis of vulnerability through the development of the following concept: « spatial poverty trap » [Jalan and Ravallion, 1997]. We describe how this expression highlights the complex scale game between population and territory in the vulnerability process. We illustrate our position by using the example of an urban case study in the field of public health: the risk of malaria infection in Dakar.
La vulnérabilité sociale des populations est encore très largement envisagée sous l'angle de l'individu et de sa place dans le groupe. Si ce sont les individus qui traversent bien les épreuves de la vulnérabilité, c'est au niveau des structures sociales que se manifestent les conditions qui rendent ces épreuves plus ou moins supportables. Autrement dit, entre l'individu et l'aléa, il y a aussi les structures sociales. Qu'aurait donc à voir le géographe ici ? Une première réponse paraît évidente : une géographie des populations vulnérables qui les localise dans l'espace et décrit leurs espaces de vie peut être entreprise. La spatialisation des phénomènes sociaux est souvent source de nouveaux questionnements et la visualisation des espaces où la vulnérabilité individuelle sévit est toujours instructive. C'est par exemple l'entreprise de la géographie de la santé à propos de la vulnérabilité sanitaire. Dans le but d'aborder la dimension spécifiquement spatiale de la vulnérabilité, nous proposons de l'analyser avec des outils de statistiques spatiales. Nous allons considérer que la vulnérabilité individuelle, certes insérée dans des structures sociales, l'est aussi –au moins partiellement- dans une dimension spécifiquement spatiale. Ainsi la vulnérabilité de deux individus, toute chose égale quant à leur insertion sociale, diffère selon leur localisation, et surtout leur environnement. Autrement dit, l'espace de vie des individus est un acteur de sa vulnérabilité et doit être analysé comme tel [Cutter et Finch, 2008]. Le développement récent de travaux utilisant des modèles spatiaux et multiniveaux dans les thématiques de santé publique le souligne bien [Chaix et Chauvin, 2002]. Nous nous proposons donc d'aborder l'analyse spatiale de la vulnérabilité à travers le développement de la notion de « piège spatial à pauvreté » [Jalan et Ravaillon, 1997]. Nous décrivons comment cette expression souligne le jeu d'échelle complexe entre population et territoire dans la construction de la vulnérabilité. Notre argumentation sera étayée par l'exemple d'une étude d'analyse spatiale de la vulnérabilité dans le domaine de la santé : le risque de paludisme-infection à Dakar.
Fichier principal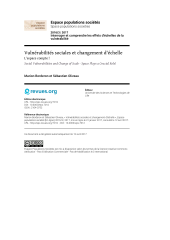 eps-7012.pdf (562.25 Ko)
Télécharger le fichier
Origin : Publisher files allowed on an open archive