Proceedings of the workshop "Linguistic diversity and NLP - DiLiTAL"
Actes de l'atelier « Diversité Linguistique et TAL » (DiLiTAL 2017)
The goal of the DiLiTAL workshop is to raise awareness among the scientific community of the issues and difficulties encountered in the processing of under-resourced languages (ULL). We also want to point out the necessity of creating generic tools in order to process a large number of languages by identifying their particularities. This workshop's aim is to pool the different methods and techniques used to boost the construction of resources, as well as the transfer of knowledge and experience in the processing of under-resourced languages.
L'atelier DiLiTAL se donne pour objectif de sensibiliser la communauté́scientifique non seulement aux enjeux et aux difficultés rencontrées dans le traitement des langues peu dotées (LPD), mais aussi àl'intérêt de créer des outils génériques permettant de traiter un très grand nombre de langues, tout en identifiant les besoins spécifiques en fonction de leurs particularités. Cet atelier vise à mettre en commun les différentes méthodes et techniques utilisées pour dynamiser la construction et la mutualisation des ressources, ainsi que le transfert des savoirs et des savoir-faire.
Fichier principal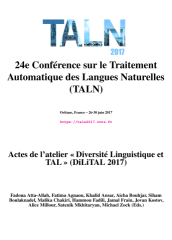 actes_DiLiTAL_2017.pdf (3.63 Mo)
Télécharger le fichier
Origin : Files produced by the author(s)