Le Codex Seguierianus de Cyprien (Paris, BNF, lat. 10592) à l'épreuve de Florus de Lyon
The so-called Codex Seguierianus, Paris, BNF, lat. 10592, a collection of works of Cyprian of Carthage written in the 5th and 6th centuries, has been described as "the" Cyprian manuscript used by Florus of Lyon (fl. c. 825–855). But when cross-referencing every use of Cyprian in Florus' works and every trace left by Florus within the Seguierianus, they overlap in only one instance. In his works, then, Florus nearly always used manuscripts other than the Seguierianus — and conversely, the traces he left in the Seguierianus are records of other of Florus' studies that either have not survived or have not yet been identified. In particular, Florus used the Seguierianus for editorial purposes, the impact of which on the Cyprian tradition remains to be assessed.
Le Codex Seguierianus Paris, BNF, lat. 10592, recueil de Cyprien de Carthage copié au Ve-VIe siècle, a été présenté comme « le » manuscrit de Cyprien de Florus de Lyon (flor. ca. 825–855). Mais si l'on compare tous les usages de Cyprien dans l'œuvre de Florus et toutes les traces laissées par Florus dans le Seguierianus, on ne peut établir qu'un seul recoupement. Dans son œuvre, donc, Florus a presque toujours exploité d'autres manuscrits de préférence au Seguierianus — et inversement les traces qu'il a laissées dans ce manuscrit sont l'empreinte d'autres travaux, non conservés ou encore non identifiés. Entre autres, Florus a fait du Seguierianus un usage éditorial, dont il reste à évaluer la portée dans la tradition de Cyprien.
Fichier principal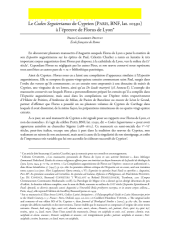 Seguierianus-pourHAL.pdf (8.14 Mo)
Télécharger le fichier
Origin : Files produced by the author(s)