Living with Spinal Cord Stimulation: Doing Embodiment and Incorporation
Seen as contributing to human enhancement, implanted technologies have recently been receiving a lot of attention. However, reflections on these technologies have taken the shape of rather speculative ethical judgments on ''hyped'' technological devices. On the other hand, while science and technology studies and philosophy of technology have a long tradition of analyzing how technological artifacts and tools transform and (re-)configure our lives, they tend to focus on use configurations rather than the intimate relations brought about by implanted technologies. Even the cyborg has lost some of its hermeneutic power as it has been detached from its material grounds, becoming a discursive entity. In this article, I reclaim the importance of materiality and explore how people live (and learn to live) with spinal cord stimulation (SCS), which is a type of neuromodulation technology. Implanted in bodies and seemingly out of sight, this technology does not cease to matter. Embodiment and incorporation are crucial for people to live well with SCS. Embodying the neuromodulation technology entails groping processes in which gestures are central and an increased intimacy with one's bodily materiality. Incorporating it is highly relational and entangledwith the bodies of loved and distant ones, humans and nonhumans.
Vues comme contribuant à « l'amélioration humaine » (human enhancement), les technologies implantées ont récemment reçu beaucoup d'attention. Cependant, les réflexions sur ces technologies ont pris la forme de jugements éthiques plutôt spéculatifs sur des objets technologiques « hype », médiatiques. D'autre part, alors que les études (sociologiques) des sciences et des technologies et la philosophie des technologies analysent comment les outils et les objets technologiques transforment et (re-) configurent nos vies, elles ont eu tendance à se focaliser sur les configurations d'utilisation ou d'usage plutôt que sur les relations intimes qui lient êtres humains et technologies implantées. Même le cyborg a perdu un peu de sa force herméneutique dans la mesure il a été détaché de ses fondements matériels pour devenir de plus en plus une entité discursive. Dans cet article, nous revendiquons l'importance de la matérialité et explorons comment les gens vivent (et apprennent à vivre) avec la technologie de stimulation de la moelle épinière, laquelle est un type de technologie de neuromodulation. Implantée dans le corps et à première vue invisible, cette technologie n'est pas sans effets. Incarner et incorporer cette technologie sont deux processus cruciaux pour pouvoir bien vivre avec la stimulation de la moelle épinière. Le corps en mouvement, notamment les gestes et les postures, sont cruciaux pour incarner cette technologie de neuromodulation. À travers ce processus de tâtonnement, le corps tel qu'il est vécu et ressenti est transformé. Pour pouvoir être bien vécue, la technologie de stimulation de la moelle épinière se doit aussi d'être incorporée. L'incorporation est un processus relationnel dans lequel les corps d'êtres aimés, proches et lointains, humains ou non-humains jouent un rôle vital.
Fichier principal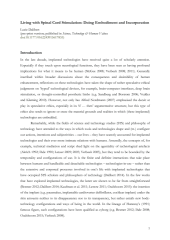 Dalibert_Article_ST-HV_Living with SCS_October_Pre-print_Version.pdf (13.53 Mo)
Télécharger le fichier
Origin : Files produced by the author(s)