Gender, class and bureaucratic power. The production of inequalities in the French civil service
This article examines the logics behind the tenacious persistence of gender inequalities in French civil service careers, based on 95 biographical interviews conducted with civil servants in upper-middle management and executive positions between 2011 and 2013. The study combines attention to the consequences of the organizational context with analysis of the interplay between gender and class, particularly focusing on how managers and executives appropriate equality policies. While family background has differential impacts on women's and men's educational paths and orientations, we find that governmental administrative bureaucracies also make strong contributions to the production of such differences through the rules and norms that equality policy struggles to change, especially in a time of austerity and deepening "new public management" reforms. While most managers and executives of both sexes tend to deny the organizational and social causes of inequality, the diffusion of egalitarian norms fosters the expression of gender consciousness by a minority of women, and reshapes mainstream managerial masculinities and femininities.
Este artículo examina las lógicas detrás de la tenaz persistencia de las desigualdades de género en las carreras del servicio público en Francia, basado en 95 entrevistas biográficas realizadas con funcionarios en puestos de alta dirección y ejecutivos entre 2011 y 2013. El estudio combina la atención a las consecuencias del contexto organizacional con análisis de la interacción entre género y clase, centrándose especialmente en la forma en que los gerentes y los ejecutivos se apropian de las políticas de igualdad. Si bien los antecedentes familiares tienen impactos diferenciales en las trayectorias y orientaciones educativas de mujeres y hombres, encontramos que las burocracias administrativas gubernamentales también contribuyen fuertemente a la producción de tales diferencias a través de las reglas y normas que las políticas de igualdad luchan por cambiar, especialmente en tiempos de austeridad e intensificación de las reformas de la "nueva gestión pública". Si bien la mayoría de los gerentes y ejecutivos de ambos sexos tienden a negar las causas organizativas y sociales de la desigualdad, la difusión de normas igualitarias fomenta la expresión de la conciencia de género por una minoría de mujeres y reestructura las masculinidades y eminidades gerenciales.
Fichier principal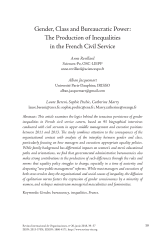 Revillard et al RIO 2018.pdf (148.72 Ko)
Télécharger le fichier
Origin : Publisher files allowed on an open archive