Brazil's INDC to COP21: the Agribusiness of the Future
La contribution du Brésil à la COP21 : l'agrobusiness du futur
A Contribuição do Brasil na COP21 : O Agronegócio do Futuro
Assessing Brazil's contribution (INDC) to the United Nations convention on climate change to COP21, we present a study showing how the country affirms both its sovereignty and dual posture as a model learner and a leader in the international arena. The decline in deforestation in the Amazon rain-forest has allowed Brazil to reduce its greenhouse gas emissions while masking the increase of emissions in all other sectors. While not proposing an energy transition, the contribution made every effort to follow an « Agribusiness of the future » without undermining the political model based on the export of agricultural commodities. Here we are studying Brazil's contribution as an illustration of its national political model in response to the problem represented by global warning.
En étudiant la contribution nationale (Intended Nationally Determined Contribution-INDC) du Brésil à la convention des Nations unies sur le changement climatique pour la COP21, cet article montre comment le pays affirme à la fois sa souveraineté et sa double posture de bon élève et de leader sur la scène internationale. La baisse de la déforestation de l'Amazonie lui a en effet permis de réduire ses émissions de gaz à effet de serre, tout en masquant leur augmentation dans tous les autres secteurs. À défaut d'organiser une transition énergétique, la contribution brésilienne fait reposer tous les efforts sur un "agrobusiness du futur", sans rupture par rapport au modèle politique reposant sur l'exportation de matières premières agricoles. Dans ce texte, la contribution brésilienne indique un modèle de politique nationale décliné à l'aune de la nouvelle problématique que représente le réchauffement climatique.
Estudando a contribuição nacional (Intended Nationally Determined Contributions – INDC) do Brasil à convenção das Nações Unidas sobre as mudanças climáticas para a COP21, esse artigo mostra como o país afirma tanto a sua soberania quanto a sua dupla postura de bom aluno e de líder na cena internacional. A queda do desmatamento na Amazônia permitiu de fato ao Brasil reduzir suas emissões de gás a efeito estufa, mas camuflou o aumento das emissões em todos os outros setores. Sem propor uma transição energética, a contribuição brasileira deposita todos os seus esforços no « agronegócio do futuro », sem romper com o modelo político baseado na exportação de matérias primas agrícolas. Estudamos neste artigo a contribuição brasileira como indicador de um modelo de política nacional interpretado em função da nova problemática que representa o aquecimento global.
Fichier principal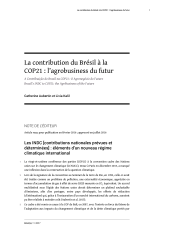 010070167.pdf (365.24 Ko)
Télécharger le fichier
Origin : Publisher files allowed on an open archive