Cuando los alumnos completan las fichas de informaciones al comienzo del año : estrategias socialmente diferenciadas susceptibles de amplificar las desigualdades
Des élèves doublement inégaux face aux fiches de renseignements de début d'année
Filling information sheets at the beginning of the year: students twice unequal Summary In France, during the first class of the school year, many teachers ask students to fill a fact sheet, in which they ask several questions: parents professions, interest for the subject, hobbies, projects ... Our research, which is based on a mixed method (758 questionnaires and 7 interviews with high school students), shows that:-filling an information sheet at the beginning of the year is a ritual that concerns more than 90% of French high school students.-Filling an information sheet threatens the face of the students (Goffman); the students discomfort is correlated with their perception of their disadvantages (for example, students whose parents have socially depreciated professions are the most embarrassed to communicate these professions).
En Francia, durante la primera clase del año escolar, numerosos profesores tienen el hábito de pedir a los alumnos completar una ficha de informaciones, en la que se pregunta sobre elementos escolares y/o extraescolares: profesión de los padres, interés por la asignatura, pasatiempos, proyectos... Nuestra investigación, que reposa sobre un método mixto (cuestionario y entrevistas con liceanos), muestra que :- Completar una ficha de información al comienzo del año es un ritual que concierne a más del 90% de los liceanos franceses.- Completar una ficha amenaza la estabilidad de los alumnos; la incomodidad del alumno es acompañada de su percepción del estigma (por ejemplo, los alumnos cuyos padres ejercen profesiones socialmente desvaloradas se incomodan más al comunicar las profesiones).- Los alumnos más conformes a la institución escolar (alumnos socialmente y escolarmente favorecidos) son aquellos que más buscan manejar su imagen completando las fichas. Sobre todo, ellos se presentan en función de las supuestas expectativas de los profesores con la finalidad de ser percibidos positivamente por éstos últimos. Ponemos en evidencia las desigualdades de presentación de sí mismo, que, acumuladas con las desigualdades sociales y a un potencial efecto Pigmalión, son susceptibles de participar a la amplificación de las desigualdades escolares.
En France, lors du premier cours de l'année scolaire, de nombreux enseignants ont l'habitude de demander aux élèves de compléter une fiche de renseignements, dans laquelle ils posent des questions scolaires et/ou extra-scolaires : professions des parents, goût pour la matière, loisirs, projets… Notre recherche, qui repose sur une méthode mixte (758 questionnaires et 7 entretiens auprès de lycéens), montre que :-Compléter une fiche de renseignements en début d'année est bien un rituel qui concerne plus de 90% des lycéens français.-Compléter une fiche met certains élèves dans l'embarras ; la gêne de l'élève est corrélée à sa perception de ses attributs dévalorisants (par exemple, les élèves dont les parents exercent des professions socialement dévalorisées sont les plus gênés de communiquer ces professions).-Les élèves les plus connivents avec la culture scolaire (élèves socialement et scolairement favorisés) sont ceux qui cherchent le plus à maîtriser leur image en renseignant les fiches. Notamment, ils se présentent en fonction des attentes supposées des enseignants afin d'être perçus le plus positivement possible par ces derniers. Nous mettons ainsi en évidence des inégalités de présentation de soi qui, cumulées aux inégalités sociales et à un effet Pygmalion, sont susceptibles de participer à l'amplification des inégalités scolaires.
Na França, no primeiro dia do ano letivo, muitos professores pedem aos alunos para preencher um formulário de dados, no qual eles fazem várias perguntas curriculares e/ou extracurriculares: profissão dos pais, interesse na disciplina, hobbies, projetos... Nossa pesquisa, que se baseou em um método misto (questionário e entrevistas com alunos de ensino médio), revela que:- Preencher um formulário de dados é um ritual que incomoda mais de 90% dos alunos do ensino médio francês - Preencher um formulário de dados ameaça o perfil dos alunos; o desconforto é correlacionado com suas percepções das suas desvantagens (por exemplo, alunos cujos pais 2 têm profissões socialmente depreciadas se sentem mais envergonhados em comunicar essas profissões)- Os alunos mais expoentes da escola (alunos favorecidos social e academicamente) são aqueles que procuram mais controlar sua imagem ao preencher os formulários. Em particular, eles se apresentam de acordo com as supostas expectativas dos professores, de forma a serem percebidos o mais positivamente possível. Assim, destacamos desigualdades na forma de auto-apresentação que, combinada com desigualdades sociais e um potencial efeito de Pygmalion, provavelmente contribuirão para a ampliação das desigualdades escolares.Palavras-chave: formulário de dados, estudantes do ensino médio, desigualdades, auto-apresentação, conivência acadêmica, efeito Pygmalion.
Fichier principal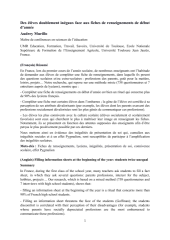 Murillo 2019 fiches renseignements.pdf (274.2 Ko)
Télécharger le fichier
Origin : Files produced by the author(s)