La précarisation des parcours sur le segment secondaire de l'emploi à la Commission européenne de Bruxelles
The European Commission (EC) in Brussels is often seen as a European-minded "body" of privileged civil servants. However, at the heart of this institution today, different types of workers exist, under various professional statuses. While looking closer at the social morphology, the diversity of backgrounds, and at hybridisation within the EC, it is clear that there is a certain gap between the positions of permanent and non-permanent workers. In this paper, we will focus on this population of skilled workers. We will try to depict the migratory paths, and social backgrounds of those that are said to be entering the institution through the "small door". 1234 questionnaires, 22 interviews, and a certain number of observations and notes have been analysed in order to develop a critical discussion on the EC staff conditions of work and life. We will then explore comparatively, both the experiences and representations of this skilled yet "precarious" youth, coming from different European countries. The spatial and social inequalities at the centre of this European transnational "elite" are at the core of our analysis.
La Commission européenne (CE) à Bruxelles est souvent vue comme un corps de fonctionnaires privilégiés à la fibre européenne. Cependant, au cœur de cette institution aujourd'hui, existent différents types de travailleurs sous des statuts professionnels variés. Regarder de plus près la morphologie sociale et la diversité des situations que connaissent ces travailleurs périphériques, ainsi que le phénomène d'hybridation au sein de la CE, fait apparaît assez clairement un certain fossé entre la position de permanents et de non-permanents. Dans cet article nous nous intéressons à cette population de travailleurs qualifiés en emploi temporaire. Ce faisant, nous essayons de dresser un portrait du passé migratoire, scolaire et/ou professionnel, ainsi que des origines sociales de ce personnel, rentré dans l'institution par la « petite porte ». 1234 questionnaires, 22 entretiens et un certain nombre de note d'observations ont été analysés afin de développer une discussion critique sur les conditions de travail et de vie de ce personnel. Nous explorons comparativement également à la fois les expériences et les représentations de ces jeunes qualifiés, en situation de « précarité » de l'emploi, provenant de différents pays européens. Les inégalités spatiales et sociales à l'intérieur de cette « élite » transnationale européenne sont le fil conducteur de nos analyses.
Fichier principal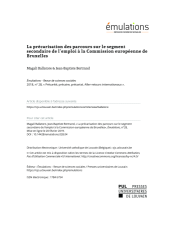 7873-Texte de l'article-33543-1-10-20190213.pdf (360.75 Ko)
Télécharger le fichier
Origin : Publisher files allowed on an open archive