Les handicapés témoins, les valides experts : mobilisations en faveur du droit à la sexualité
This article aims to analyse the rhetoric used by the supporters of sexual assistance to make this practice a cause to be defended. This rhetoric relies on emotions and figures, as well as lay and scholarly expertise. After a brief description of the practice, its origins, and current developments, the article will seek to describe the methods of raising awareness used by the proponents of "sexual assistance," and the place given to disabled persons without the use of these measures.
L'objectif de cet article est d'analyser la rhétorique employée par les partisans de l'assistance sexuelle pour ériger cette pratique en cause à défendre, une rhétorique qui mêle recours aux émotions et aux données chiffrées, aux expertises profanes et aux expertises savantes. Après une rapide présentation de cette pratique, ses origines et ses développements actuels, l'article s'attachera à décrire les dispositifs de sensibilisation utilisés par les défenseurs de la cause « assistance sexuelle » et la place accordée aux personnes handicapées dans ces dispositifs.
Fichier principal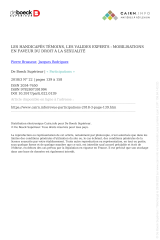 PARTI_022_0139.pdf (1.2 Mo)
Télécharger le fichier
Origin : Explicit agreement for this submission