Organisation des productions sidérurgiques en Gaule (VIIe-Ier s. a.C.) : de la réduction du métal à l'élaboration de demi-produits
This article proposes an updated state of the art concerning the organization of the first production stages in ferrous metallurgy in the Gaul territory. Indeed, since the last syntheses was published in 2007 for the XXVIIIth AFEAF's symposium of Toulouse several program have been achieved. It so appears, that changes are perceptible throughout the Iron Age in the organization of the primary production (reduction and refining), in the types of furnaces, in the production intensity and in the types of traded metallic raw material. Nevertheless, disparities in the archaeological data are observed: the end of the first Iron Age and the beginning of the second (Ha D3 - LT A) deliver the largest number of workshop sites, while the middle of the second Iron Age (LT B-C) stay little documented. The end of the second Iron Age, again better illustrated, seems to be characterized by a grouping and a certain form of production specialization.
Cet article propose un bilan réactualisé de l'état des connaissances sur l'organisation des premières étapes de production en métallurgie du fer en Gaule. En effet, suite aux dernières synthèses publiées en 2007 à l'occasion du XXVIIIe colloque de l'AFEAF à Toulouse, plusieurs programmes se sont vus achevés. Des changements sont perceptibles tout au long de l'âge du Fer dans l'organisation de la production primaire (réduction et épuration), dans les types de fourneaux utilisés, dans l'intensité de la production et dans les types de matières premières métalliques commercialisées. Néanmoins, des disparités dans les données archéologiques sont observées : la période de la fin du premier âge du fer et du début du second (Ha D3 – LT A) livre le plus grand nombre de sites d'atelier, alors que la phase moyenne du second âge du Fer (LT B-C) reste peu documentée. La fin du second âge du Fer, de nouveau mieux illustrée, semble se caractériser par un regroupement et une certaine forme de spécialisation de la production.
Fichier principal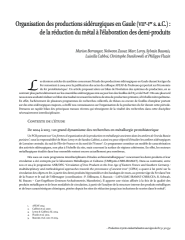 Berranger_et-al_2017_301-333.pdf (18.15 Mo)
Télécharger le fichier
Origin : Explicit agreement for this submission
Licence : CC BY NC ND - Attribution - NonCommercial - NoDerivatives