Le Front national comme espace de luttes : dynamiques croisées de professionnalisation politique
"The article proposes an analysis of crises in the Front national, the French extreme right party. From the perspective of political sociology and a historical study of all members of parliament elected under the party's label, the article investigates and offers explanations for the divisions in the party, which are not restricted to ideological differences. Divisions also depend on the articulation between the state of political competition and the system of positions it creates. The Front national is a product of the acceleration of political professionalization mechanisms since the 1970s. This process is based on the principle of differentiated trajectories among its ruling elites. Two dimensions are particularly influential on the party's internal competitions and conflicts: the time spent in politics and the structure of political capital.
L'article propose une analyse des crises au Front national à partir d'une perspective de sociologie politique et d'une prosopographie de l'ensemble des parlementaires nationaux et européens élus sous l'étiquette de ce parti. Les divisions en son sein ne s'expliquent pas uniquement par des variations idéologiques. Elles dépendent aussi de l'articulation entre l'état de la compétition politique et le système des positions et prises de position auquel il donne sens. Le FN est un produit de l'accélération des mécanismes de professionnalisation politique depuis les années 1970. Ce processus est au principe de trajectoires différenciées parmi ses élites dirigeantes. Deux dimensions s'avèrent particulièrement structurantes des concurrences et des conflits qui traversent le FN depuis le milieu des années 1980 : le temps passé en politique en son sein, et la structure du capital politique."
Fichier principal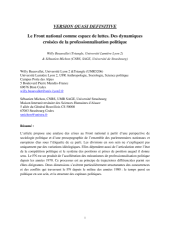 view-103.pdf (828.56 Ko)
Télécharger le fichier
Origin : Files produced by the author(s)