Le musée & la ville, mutations architecturales de l'institution muséale
The original museums had a panoptic organization, which was indispensable for the composition of natural history and for aesthetics. This function started to recede at the end of the last century. The museums then reinvented themselves, by turning into an entirely different form of media. This change occurred through a radical transformation of museum architecture. Beyond the grandiose architectural exploits, the museum now radiates across the city, reorganizing it and changing its image. The conceptual design of the buildings has been profoundly modified in order to devote them to hosting the general public and media exhibits, and relegating inventories (the initial function he conservation of collections) to annexes, buried or delocalized to suburbs. The museum, reinvented into a space for communication, has incontestably become—by the magnificence and the architectural splendor of its buildings, the mobilization of financial means for its sustenance, the gathering of the public attending—the temple and the legitimation of contemporary art, linked to the great chain of heritage culture, going back to the origins of humanity.
Les musées étaient à leur origine un dispositif panoptique indispensable à l'édification de l'histoire naturelle ou de l'esthétique. Cette fonction s'était étiolée à la fin du siècle dernier. Ils se sont réinventés en devenant un média à part entière. Et cela passe par une transformation radicale de l'architecture muséale. Par-delà les gestes architecturaux d'ampleur*, les musées rayonnent sur la ville, la réorganisent et changent son image. La conception des bâtiments a été profondément modifiée pour les réserver à l'accueil du public et au média exposition, jusqu'à reléguer les réserves (la fonction initiale de conservation des collections) dans des bâtiments annexes enterrés ou délocalisés en banlieue. Le musée réinventé en espace de communication est devenu incontestablement, par la magnificence et les prouesses architecturales des bâtiments, la mobilisation des moyens nécessaires à leur financement, le recueillement des foules qui s'y pressent, le temple, de légitimation de l'art contemporain joint à la grande chaîne de la culture patrimoniale depuis les origines de l'humanité.
Fichier principal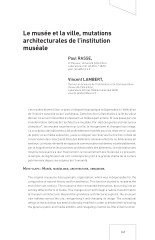 Le musée & la ville - 2019.pdf (589.85 Ko)
Télécharger le fichier
Origin : Explicit agreement for this submission