Covid-19: the end of the geography of hypermobility?
Covid-19 : ¿fin a la geografía de la hipermovilidad ?

Covid-19 : la fin de la géographie de l'hypermobilité ?
Covid-19 : fim da geografia da hipermobilidade
Since the progress of air transport, and in particular the very sharp reduction in the need for technical stopovers, and then the rise of globalisation in the 1990s, the world had entered an era of hypermobility. The thurifers of a nomadic planet, disdainful of those who, while loving the world, remained attached to a territorial identity, rejoiced. Indeed, the increased right to mobility, which was then accentuated in the 2000s by the development of low-cost airlines, revealed advantages, for example for countries that knew how to make the most of their economic and tourist assets. But the covid-19 pandemic revealed that hypermobility also had drawbacks.
Con el progreso de los transportes aéreos (y, sobre todo, la fuerte disminución de las escalas) y el incremento de la globalización en la década de 1990, el mundo entró en una era de hipermovilidad. Los partidarios de un planeta nómada, despreciando aquellos que a pesar de tener intereses en disfrutar del mundo permanecieron atados a una determinada identidad territorial, estaban encantados. De hecho, el aumento del derecho a la movilidad, acentuado en la década de 2000 por el desarrollo de aerolíneas de bajo costo, reveló ventajas, por ejemplo, para los países que sabían cómo desarrollar sus activos económicos y turísticos. Sin embargo, la pandemia de Covid-19 reveló que la hipermovilidad también tiene sus inconvenientes.
Depuis le progrès des transports aériens et notamment la très forte diminution du besoin d'escales techniques, puis l'essor de la globalisation dans les années 1990, le monde était entré dans une ère d'hypermobilité. Les thuriféraires d'une planète nomade, dédaigneux de ceux qui, tout en aimant le monde, demeuraient attachés à une identité territoriale, s'en réjouissaient. Effectivement, le droit accru à la mobilité, ensuite accentué dans les années 2000 par le développement des compagnies aériennes à bas coût, décelait des avantages, par exemple pour les pays sachant valoriser leurs atouts économiques et touristiques. Mais la pandémie de covid-19 a révélé que l'hypermobilité avait égale-ment des inconvénients.
Com o progresso dos transportes aéreos (e, sobretudo, a forte diminuição das escalas) e o incremento da globalização nos anos noventa, o mundo entrava em uma era de hipermobilidade. Os partidários de um planeta nômade, desdenhosos daqueles que mesmo apreciando o mundo permaneciam atados a certa identidade territorial, se deleitavam. De fato, o direito adquirido à mobilidade, impulsionado nos anos dois mil pelo desenvolvimento das companhias aéreas low cost, evidenciava vantagens, por exemplo, para países que sabiam desenvolver seus ativos econômicos e turísticos. Entretanto, a pandemia da Covid-19 revelou que a hipermobilidade também tem seus inconvenientes.
Fichier principal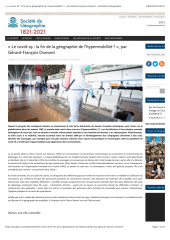 coronavirus-covid-19-géographie-hypermobilité-société-de-géographie -gérard-francois dumont–2129B-J521.pdf (836.23 Ko)
Télécharger le fichier
Origin : Explicit agreement for this submission