Guide for FAIR Authors Corpus Data. Guide prepared by Fatiha Idmhand and Ioana Galleron for the [Working Group Data_Cahier].
Guide pour la FAIRisation des données des corpus d'auteurs préparé par Fatiha Idmhand et Ioana Galleron pour le [Groupe de travail Data_Cahier]
The FAIR (Findability, Accessibility, Interoperability and Reusability) principles define a minimum set of principles that enable machines and humans to find, access, interoperate and reuse research data and metadata. The FAIR principles should be viewed as good practices that facilitate reuse of research data and results. The CAHIER consortium and its members recommend and implement these good practices. In a project life, the deposit of data (4) for archiving is usually managed at the end of the project chain, after collection (1), processing (2) and analysis (3). The repository contributes to make the results sustainable and to highlight the results. For each phase of a project's life cycle, the Huma-Num infrastructure offers different tools: CAHIER consortium uses Nakala to store its data so that they can be found, accessed, interoperable and reusable. This short guide describes the process implemented in CAHIER to make its data "FAIR". It is organized in four steps: 1° Assess the degree of openness of its projects 2° Compare its metadata with the consortium's expectations 3° Complete and correct the metadata if necessary 4° Deposit on Nakala, obtain a perennial identifier and associate it with the documents published on its own website (or on an institutional website).
Les principes FAIR (Findability, Accessibility, Interoperability and Reusability) définissent un ensemble minimal de principes qui permettent aux machines et aux humains de trouver, d'accéder, d'interopérer et de réutiliser les données et métadonnées de recherche. Les principes FAIR doivent être considérés comme des bonnes pratiques destinées à faciliter la réutilisation des données et des résultats de la recherche. Le consortium CAHIER, et ses membres, recommandent et mettent en oeuvre ces bonnes pratiques. Dans le cycle de vie d'un projet, le dépôt des données (4) en vue de leur archivage arrive généralement en fin de chaîne, après la collecte (1), le traitement (2) et l'analyse (3). Le dépôt contribue à rendre pérennes et à mettre en valeur les résultats. Pour chaque phase du cycle de vie d'un projet, l'infrastructure Huma-Num propose différents outils : Le consortium CAHIER utilise Nakala pour stocker ses données afin qu'elles soient trouvables, accessibles, interopérables et réutilisables. Ce petit guide décrit le processus à mettre en oeuvre pour rendre les données du Consortium CAHIER « FAIR ». Celui-ci est organisé en quatre étapes : 1° Évaluer le degré d'ouverture de ses projets 2° Confronter ses métadonnées aux attentes du consortium 3° Compléter et corriger les métadonnées si nécessaire 4° Déposer sur Nakala, obtenir un identifiant pérenne et l'associer aux documents publiés sur son propre site web (ou sur un site web institutionnel).
Fichier principal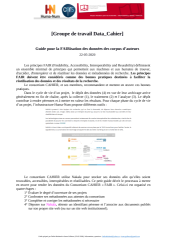 FAIR_Guide_CAHIER_22-05-2020.pdf (411.57 Ko)
Télécharger le fichier
Origin : Files produced by the author(s)