Is Shiism revolutionary?
Le chiisme est-il révolutionnaire?
To answer the question posed, we return to the dogma of Twelver Shiism and its history, particularly the concept of the imamat, and then to the history of the formation of Shiism, with its founding events, notably the battle of Karbala in 680. Then we retrace the history of the relationship between the Shiites and the powers in place before tackling the striking contemporary events, from the Constitutional Revolution to the Islamic Revolution in Iran, from the revolt of 1920 to the Shiite Islamic movements in Iraq. The interview ends on more current issues (Hezbollah, post-2003 Iraq, Yemen, etc.).
Pour répondre à la question posée, on revient sur le dogme du chiisme duodécimain et son histoire, particulièrement sur le concept de l'imamat, puis sur l'histoire de la formation du chiisme, avec ses événements fondateurs, notamment la bataille de Karbala en 680. Puis l'on retrace l'histoire de la relation entre les chiites et les pouvoirs en place avant d'aborder les événements contemporains marquants, de la révolution constitutionnelle en Iran jusqu'à la révolution islamique, de la révolte de 1920 aux mouvements islamiques chiites en Irak. L'entretien se termine sur des questions plus actuelles (le Hezbollah, l'Irak de l'après 2003, le Yémen, etc.).
Fichier principal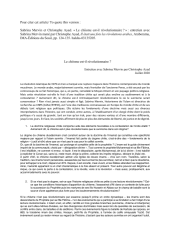 S_Mervin_C_Ayad_Le_chiisme_estil_révolutionnaire?.pdf (206.3 Ko)
Télécharger le fichier
Origin : Files produced by the author(s)