Regional health agency work reconfigurations as witnessed in the territorial deployment of local health contracts (2009-2016): extended jurisdictions and the loss of professional power
Las reconfiguraciones del trabajo de los agentes de las ARS. Extensión de jurisdicción y pérdida de poder profesional
Les reconfigurations du travail des agents des ARS. Extension de juridiction et perte de pouvoir professionnel.
Local health contracts are defined as public sector instruments promoting regional health agencies' implementation of regional health projects in consultation with their partners. Deployed in the particular context of the French central government's local reforms, these contractual mechanisms have significantly altered decentralised public services' work organisation. The present article leverages Abbott's studies to analyse how the restructuring of the French state's territorial entities affects the activities of officers responsible for signing and operationalising local health contracts. Rooted in a field survey of officers working out of three regional health agencies' central and local sites, the analysis reveals that changes in working arrangements (tasks, timing, power) differ depending on officers' intervention levels and target audiences.
Los Contratos Locales de Salud (CLS) se definen como instrumentos de acción pública que tienden a favorecer la implementación de proyectos regionales de salud por las Agencias Regionales de Salud (ARD) en concertación con sus socios. Desplegados en el contexto particular de las reformas de la administración territorial, estos instrumentos contractuales contribuyen a modificar los modos de organización del trabajo dentro de los servicios desconcentrados del Estado. Apoyándose en los trabajos de A. Abbott, el artículo analiza la forma en que las reestructuraciones del Estado territorial pesan en la actividad de los agentes encargados de conducir la firma e implusar los CLS. Basado en una consulta in situ realizada con agentes de sedes y de delegaciones departamentales de las ARS de tres regiones, el análisis revela que las modificaciones de las modalidades de trabajo (tareas, temporalidad, poder) se diferencian según el nivel de acción de los agentes y sus audiencias.
Les contrats locaux de santé (CLS) sont définis comme des instruments d'action publique visant à favoriser la mise en œuvre des projets régionaux de santé par les agences régionales de santé (ARS) en concertation avec leurs partenaires. Déployés dans le contexte particulier des réformes de l'administration territoriale, ces instruments contractuels contribuent à modifier les modes d'organisation du travail au sein des services déconcentrés de l'État. S'appuyant sur les travaux d'A. Abbott, l'article analyse la façon dont les recompositions de l'État territorial pèsent sur l'activité des agents en charge de conduire la signature et l'animation des CLS. Fondée sur une enquête de terrain menée auprès d'agents de sièges et de délégations départementales d'ARS de trois régions, l'analyse met au jour que les modifications des modalités de travail (tâches, temporalité, pouvoir) se différencient selon le niveau d'action des agents et leurs auditoires.
Fichier principal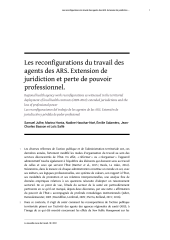 Publi..pdf (162.83 Ko)
Télécharger le fichier
Origin : Publisher files allowed on an open archive