The writings of the mining area
Les écritures de l'espace minier
La scrittura dello spazio minerario
This contribution proposes to examine the production and practices of documentary writing generated by the actors of the silver mines of eastern Languedoc. In the absence of archives constituted for this field of the history of work and techniques, it is on the basis of a heterogeneous corpus of 261 documents from the 12th to the 15th century that the reflections will be conducted. The aim is to examine the place that writing took in the production process, to question its relationship with orality and to identify the different uses of writing, from their initial functions to their alterations.
Cette contribution propose d'examiner les productions et pratiques de l'écrit documentaire générées par les acteurs des mines argentifères du Languedoc oriental. En l'absence d'archives constituées pour ce domaine de l'histoire du travail et des techniques, c'est à partir d'un corpus hétérogène de 261 documents allant du xiie au xve siècle que les réflexions seront conduites. L'objectif est d'interroger la place que prenait l'écrit dans le processus de production, de questionner son rapport avec l'oralité et d'identifier les différents usages de l'écrit, de leurs fonctions initiales à leurs altérations.
Questo contributo si propone di esaminare la produzione e le pratiche di scrittura documentaria generate dagli attori delle miniere d'argento della Linguadoca orientale. In mancanza di archivi costituiti per questo campo della storia del lavoro e delle tecniche, è sulla base di un corpus eterogeneo di 261 documenti dal XII al XV secolo che si condurranno le riflessioni. L'obiettivo è quello di esaminare il posto che la scrittura occupava nel processo di produzione, di mettere in discussione la sua relazione con l'oralità e di identificare i diversi usi della scrittura, dalle loro funzioni iniziali alle loro alterazioni.
Fichier principal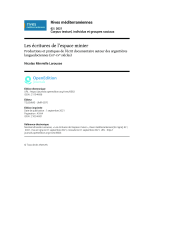 Minvielle - Les écritures de l'espace minier.pdf (1.14 Mo)
Télécharger le fichier
Origin : Publisher files allowed on an open archive