La reproduction imparfaite : les 'gusanes' et l'état larvaire des insectes chez Albert le Grand
The subject of Medieval entomology is has remained virtually unexplored. Yet there is no shortage of matter to study. From the 13th century, after a relative silence lasting several centuries and filled only with exegetical interpretations, the philosophical interest for the indistinct world of vermes has increased as a result of the rediscovery of Aristotle's Zoology and the circulation of Book 11 of Pliny's Natural History. The secrets of the world of insects, then called "anulosi" ("ringed") according to the Arab-Latin translation of Aristotle's Zoology by Michael Scot, begin to attract the attention of scholars. While he had not read Natural History, the Dominican Albert the Great (ca. 1200-1280) was the first scholar to apply in his De animalibus the Aristotelien teleological perspectives to the study of the specific reproduction modes of these "imperfect" beings. In this context, unprecedented philosophical and scientific questions arise about the difference between sexes, multiple reproduction and parental resemblance in relation to insects undergoing metamorphoses, from the perspective of nature's quest for perfection. By demonstrating the explanatory benefit that Albert draws from the information provided by Aristotle and by Avicenne's Abbreviatio de animalibus for the understanding of this "double generation", this study also shows that it necessitated the introduction of a new word - gusanes - to signify the small worms or larvae originating from the first generation of holometabolous insects.
L'entomologie médiévale est un sujet resté quasiment inexploré. Pourtant, la matière ne manque pas. Après un silence relatif, peuplé seulement d'interprétations exégétiques, à partir du 13e siècle, l'intérêt philosophique pour le monde indistinct des "vermes" s'accroît à la faveur de la redécouverte de la Zoologie d'Aristote et de la diffusion du livre XI de l'Historia naturalis de Pline. Les secrets du monde des insectes, appelés alors "annelés" (annulosi) d'après la traduction arabo-latine de la Zoologie d'Aristote par Michel Scot, commencent à attirer l'attention des savants. Alors qu'il ne connaît pas l'Histoire naturelle de première main, le dominicain Albert le Grand (c. 1200–80) applique le premier dans son De animalibus les perspectives finalistes du Stagirite à l'étude des modes de génération spécifiques de ces êtres "imparfaits". Dans ce contexte naissent des questionnements philosophiques et scientifiques inédits sur la différence sexuelle, la génération multiple et la ressemblance parentale chez les insectes à métamorphoses, en regard de la recherche de perfection de la nature. En montrant le profit explicatif qu'Albert tire de la documentation fournie par Aristote et par l'Abbreviatio de animalibus d'Avicenne pour le traitement de cette "double génération", on montre aussi qu'il a nécessité l'introduction d'un nouveau mot, les gusanes, pour désigner les vermisseaux ou larves issues de la première génération des insectes holométaboles.
Fichier principal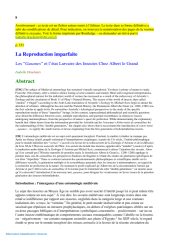 Draelants Gusanes texte état fev. 2022 HAL.pdf (1012.21 Ko)
Télécharger le fichier
Origin : Files produced by the author(s)