Dans les vapeurs de la chimie : la nouvelle industrie de la soie artificielle et sa main-d'oeuvre en France (années 1890-1930)
The artificial textile industry employed during almost one century up to several tens of thousands of workers in France. The production relies on artificial fibres produced through a chemical treatment of natural substances like cotton or wood cellulose. There was talk of "artificial silk" until the prohibition of this designation by a 1934 law and its replacement by the term "rayon". After tracing the dramatic increase of production sites in France during the 1900's-1920's, sometimes ephemeral ones because of the Great Depression, this paper studies the largely feminine and migrant recruitment of the working force between the two wars through the population of working-class cities from two factories. The hard sanitary working conditions in those firms are notably at the origin of several important strikes, even if the level conflict appears to be rather weaker than in the whole textile industry.
L'industrie des textiles artificiels a employé pendant près d'un siècle jusqu'à plusieurs dizaines de milliers de personnes en France. La fabrication repose sur des fibres artificiellement produites à partir d'un traitement chimique de matières naturelles comme le coton ou la cellulose de bois. On a parlé de « soie artificielle » avant que la dénomination ne soit interdite par une loi de 1934 et remplacée par celle de « rayonne ». Après avoir retracé la multiplication spectaculaire des implantations, parfois rendues éphémères par la Grande Crise, de cette industrie en France dans les décennies 1900-1920, cet article étudie le recrutement largement féminin et migrant de la main-d'œuvre dans l'entre-deux-guerres à travers la population des cités ouvrières de deux usines. Les dures conditions sanitaires de travail dans ces entreprises sont notamment à l'origine de plusieurs mouvements de grèves importants, même si la conflictualité apparaît plutôt moins forte que dans l'ensemble de l'industrie textile.
Fichier principal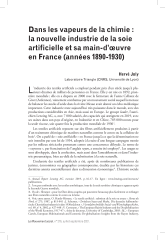 Epreuves.pdf (224.06 Ko)
Télécharger le fichier
Origin : Explicit agreement for this submission