Rendre les cancers évitables. Recherches sur le travail cancérogène et ses conséquences
France now counts nearly 400,000 new cancer cases per year. Yet, even though this epidemic is shaped by strong inequalities, the role of work as a cause of cancer remains underacknowledged, if not ignored. In the GISCOP 84 cohort study on blood cancer patients taken care of at Avignon Central Hospital, each cancer is considered as a "sentinel event" giving access to the patients' past (and present) occupational exposures to carcinogens, as well as to the obstacles to – and levers of action for – the prevention of occupational cancers and their compensation as occupational diseases. This article presents the GISCOP approach and the type of knowledge it produces. It also analyzes the institutional resistances this action research encounters. Indeed, although the ongoing cancer epidemic is a major public-health crisis requiring a strong response, the prevention of occupational cancers is intricately related to social relations of production – and thus politically sensitive.
Avec près de 400 000 nouveaux cas par an, la France est en pleine épidémie de cancer. Or, malgré la nature fortement inégalitaire de cette épidémie, le rôle du travail dans la survenue des cancers demeure peu ou pas pris en compte. Dans le cadre de l'enquête de cohorte du GISCOP 84 auprès de patients atteints de cancer hématologique pris en charge au centre hospitalier d'Avignon, chaque cancer est considéré comme un « événement-sentinelle » donnant accès aux expositions professionnelles aux cancérogènes subies par les patients, mais aussi aux freins et leviers d'action pour la reconnaissance en maladie professionnelle et la prévention. L'article présente cette démarche de recherche pour l'action et le type de connaissances qu'elle permet de produire, tout en analysant les résistances institutionnelles auxquelles elle se heurte. En effet, si la crise sanitaire majeure qu'est l'épidémie de cancers appelle des réponses fortes, la prévention des cancers professionnels est en prise directe avec les rapports sociaux de production – et donc politiquement sensible.
Fichier principal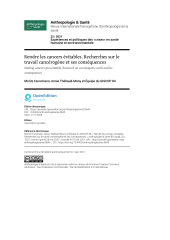 Rendre les cancers évitables - Anthropologie & Sante 2021.pdf (282.67 Ko)
Télécharger le fichier
Origin : Publisher files allowed on an open archive