Territorial revitalization: a key milestone toward a shared concept
Hitos para una construcción colaborativa del concepto de revitalización territorial
Jalons pour une construction collaborative du concept de revitalisation territoriale
Although the expression "revitalisation" appears more frequently in the field of public policy, particularly in France since the mid-1990s, it remains unexplored by researchers. Often linked to territorial issues, revitalisation is a fuzzy concept, both in the field of public action and in scientific publications. Characterizing this process to discriminate it from other territorial dynamics is, however, a real academic and practical challenge to better support public policies by clarifying the elements of diagnosis, the roles of actors and the modalities of its implementation. Building on experiments carried out in several fields of territorial policies in the region of Bourgogne-Franche-Comté (France), our interdisciplinary group of researchers has therefore set out to conceptualise the "territorial revitalisation" with an open perspective that is expected to be further developed through other experiences. This paper thus initiates a collective intelligence approach aiming at the co-construction of an evolving concept, based on studied and/or supported revitalisation experiences, with other researchers and actors taking part in such processes. Based on a synthesis of the knowledge, resulting from a cognitive analysis of the discourse on a specially prepared corpus, we set out the interdisciplinary approach that made it possible to articulate differentiated but complementary theoretical frameworks via a series of keys for reading the territory as a complex system. Our conceptualization of territorial revitalization is based on five principles, introduced by the case study on the deployment of the Techn'hom project in Belfort, from the 2000s to the present day. This example calls for further case studies to refine and make the concept operational.
Si bien el término de revitalización aparece con frecuencia en el ámbito de las políticas públicas y en Francia emerge desde mediados de los años noventa, ha sido un sujeto escasamente explorado por la comunidad científica. Frecuentemente asociado a las problemáticas territoriales, la noción de revitalización continúa siendo un concepto difuso, tanto en el ámbito de la acción pública como en el campo científico. Calificar este proceso con la finalidad de discriminarlo de otras dinámicas territoriales es un desafío académico y práctico, el cual apoya de mejor manera las políticas públicas, contribuyendo al diagnóstico, conocimiento del rol de los actores y las modalidades de su puesta en marcha. A partir de una experiencia realizada en varios campos de Bourgogne-Franche-Comté (Francia), nuestro colectivo interdisciplinario de investigadores se ha propuesto conceptualizar la "revitalización territorial" con un enfoque abierto, llamando a enriquecerse con otras experiencias. Este artículo desarrolla un proceso de inteligencia colectiva con el objetivo de co-construir este concepto a partir de las experiencias de revitalización estudiadas y/o acompañadas de investigadores y actores involucrados en dichos procesos. Posteriormente de presentar una síntesis del estado del arte gracias a un análisis cognitivo del discurso de este, exponemos el enfoque interdisciplinario que nos permitió articular marcos teóricos diferenciados pero complementarios a través de una serie de claves de lectura del territorio como sistema complejo. Nuestra conceptualización de la revitalización territorial se sostiene en cinco principios, aplicados a un estudio de caso sobre el despliegue del proyecto Techn'hom en Belfort desde la década de 2000 a nuestros días. Este ejemplo invita a otros investigadores a refinar y hacer operativo el concepto.
Si le terme de revitalisation apparaît plus fréquemment dans le champ des politiques publiques, notamment en France depuis le milieu des années 1990, il est relativement peu exploré par la communauté scientifique. Souvent associée à des problématiques territoriales, la revitalisation demeure un concept flou, tant dans le domaine de l'action publique que dans les publications scientifiques. Qualifier ce processus afin de le discriminer d'autres dynamiques territoriales est pourtant un véritable enjeu académique et opérationnel, afin de mieux accompagner les politiques publiques, en clarifiant les éléments de diagnostic, les rôles des acteurs et les modalités de sa mise en œuvre. Fort d'une expérience menée sur plusieurs terrains en Bourgogne-Franche-Comté (France), notre collectif interdisciplinaire de chercheurs s'est donc attelé à conceptualiser la "revitalisation territoriale" avec une approche ouverte, appelée à s'enrichir d'autres expériences. Cet article initie une démarche d'intelligence collective visant à co-construire ce concept en devenir, au gré des expériences de revitalisation étudiées et/ou accompagnées, avec d'autres chercheurs et acteurs impliqués dans de tels processus. Après avoir présenté une synthèse des connaissances résultant d'une analyse cognitive du discours sur un corpus spécifiquement construit, nous exposons la démarche interdisciplinaire qui a permis d'articuler des cadres théoriques différenciés mais complémentaires via une série de clefs de lecture du territoire comme système complexe. Notre conceptualisation de la revitalisation territoriale repose in fine sur cinq principes, présentés par l'étude de cas portant sur le déploiement du projet Techn'hom à Belfort, des années 2000 à nos jours. Cet exemple en appelle d'autres pour affiner et opérationnaliser le concept.
Fichier principal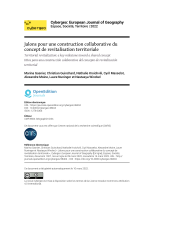 cybergeo-38404.pdf (1.7 Mo)
Télécharger le fichier
Origin : Publisher files allowed on an open archive