The politicisation of religion at the time of the Roman question in western France (1860-1870)
La politización de la religión en la época de la cuestión romana en Francia del oeste (1860-1870)
La politisation de la religion au temps de la question romaine dans l'Ouest français (1860-1870)
In France, throughout the 19th century, the politicisation of Catholics was largely the result of conflicts between them and a state whose modernisation was marked by secularisation. The mobilisation against the Italian policy of Napoleon III illustrates this situation well. Such mobilisation was marked by a continued appropriation by Catholics of modern forms of politics. However, this appropriation was not just a passive process of taking up repertoires of action already used by others; on the contrary, it took specific forms, linked to the characteristics of Catholicism at the time, and in particular to the refusal of an absolute separation between politics and religion. Using the case of western France as a starting point, we propose to show how the politicisation of Catholics at the time of the Roman question was able to take on original forms, alongside classic political practices, testifying to an interpenetration of the political and religious spheres.
En Francia, a lo largo del siglo xix, la politización de los católicos fue en gran medida el resultado de los conflictos entre ellos y un Estado cuya modernización estaba marcada por la secularización. La movilización contra la política italiana de Napoleón III ilustra bien esta situación. Esta movilización estuvo marcada por una continua apropiación por parte de los católicos de las formas modernas de la política. Sin embargo, esta apropiación no fue un mero proceso pasivo de asimilación de repertorios de acción ya utilizados por otros; por el contrario, adoptó formas específicas, vinculadas a las características del catolicismo de la época y, en particular, al rechazo de una separación absoluta entre política y religión. Partiendo del caso de la Francia del oeste, nos proponemos mostrar cómo la politización de los católicos en la época de la cuestión romana pudo adoptar formas más originales, junto a las prácticas políticas clásicas, ofreciendo un testimonio de una interpenetración de las esferas política y religiosa.
En France, tout au long du xixe siècle, la politisation des catholiques fut largement le fruit des conflits qui opposèrent ceux-ci à un État dont la modernisation conduisait à un renforcement de la sécularisation. La mobilisation contre la politique italienne de Napoléon III illustre bien cette situation. Une telle mobilisation fut marquée par une poursuite de l'appropriation par les catholiques des formes modernes de la politique. Cependant, cette appropriation ne fut pas qu'un processus passif de reprise de répertoires d'actions déjà utilisés par d'autres ; elle a au contraire pris des formes spécifiques, liées aux caractéristiques du catholicisme de l'époque, et notamment au refus d'une séparation absolue entre politique et religion. En nous appuyant sur le cas de l'Ouest français nous nous proposons de montrer comment la politisation des catholiques au temps de la question romaine a pu prendre, à côté de pratiques politiques classiques, des formes plus originales, témoignant d'une interpénétration des sphères politique et religieuse.
Fichier principal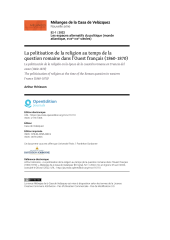 7 - Article Casa de Velazquez.pdf (549.71 Ko)
Télécharger le fichier
Origin : Publisher files allowed on an open archive