La citation de presse dans l'œuvre littéraire contemporaine, de l'effacement des sources au collage
Albert Cohen's Churchill d'Angleterre (1943) and François Bon's Daewoo (2004) share a committed writting and a massive use of audiovisual or written journalistic sources. Both authors call for fight, the one against the nazi power, the other against the human ravages caused by desindustrialisation but they use mediatic sources in very different ways : Cohen uses a relative sources effacing and thus a narratorial over-enunciation, while François Bon shows off sources with a narratorial under-enunciation. This difference allows us to understand how the intersemiotic treatment of the press quote is functionning in a committed literary text, depending on the bias wether praise or indictment. Thus we can understand how the enunciative-interactionnal, pragmatic, rhetorical and literary stakes of this press quote are linked.
Churchill d'Angleterre d'Albert Cohen (1943) et Daewoo de François Bon (2004) partagent une écriture engagée et l'utilisation massive de sources journalistiques, audio-visuelles ou écrites. Ces deux auteurs qui appellent à lutter l'un contre le pouvoir nazi, l'autre contre les ravages humains causés par la désindustrialisation, ont des modes d'utilisation des sources médiatiques très différents, allant d'un relatif effacement des sources et donc d'une sur-énonciation narratoriale chez Cohen, à leur exhibition avec une sous-énonciation narratoriale chez F. Bon. Cette différence permet de voir comment fonctionne le traitement intersémiotique de la citation de presse dans un texte littéraire engagé, selon le parti qui est pris, éloge ou au contraire réquisitoire, c'est-à-dire comment s'articulent ses enjeux énonciativo-interactionnels, pragmatiques, rhétoriques et littéraires.
Fichier principal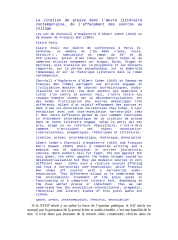 cidit.42.pdf (185.88 Ko)
Télécharger le fichier
Origin : Explicit agreement for this submission