Esthétique de la voix dans les livres audio en langue française
Aesthetics of voice in French-language audio books. This research aims at studying listeners' preferences in audiobooks' voices. Samples of 8 male and 7 female voices were extracted from different audiobooks and analyzed. A survey has been carried out to obtain 69 listeners' points of view by answering questions on vocal features. Results show that the participants' choices depend on the literary genre. Indeed, male voices are preferred for science-fiction novels and female voices for juvenile literature and contemporary novels. Nevertheless, other literary genres that were tested do not match with a specific voice. On the other hand, essays are expected to be read with a slower speech rate, whereas listeners prefer faster speech rates in erotic novels.
Cette recherche vise à étudier les préférences des auditeurs concernant les voix des livres audio. Des échantillons de 8 voix masculines et 7 voix féminines ont été extraits de différents livres audio et analysés. Une enquête a été réalisée pour obtenir le point de vue de 69 auditeurs en répondant à des questions sur les caractéristiques vocales. Les résultats montrent que les choix des participants dépendent du genre littéraire. En effet, les voix masculines sont préférées pour les romans de science-fiction et les voix féminines pour la littérature pour enfants et les romans contemporains. Néanmoins, les autres genres littéraires testés ne correspondent pas à une voix spécifique. Concernant le débit, une préférence a été notée pour des essais lus avec un débit de parole plus lent, alors que les auditeurs préfèrent un débit de parole plus rapide pour les romans érotiques.
Fichier principal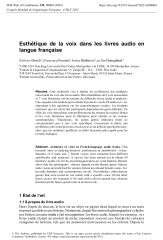 shsconf_cmlf2022_08004.pdf (3.82 Mo)
Télécharger le fichier
Origin : Publisher files allowed on an open archive