On Mpu Tanakuṅ, Daṅ Hyaṅ Nirartha, and the Authorship of the Bhuvanakośa
This article takes as a point of departure the first Sanskrit verse of the Sanskrit-Old Javanese Śaiva scripture Bhuvanakośa, which has come down to us in Balinese palm-leaf manuscripts. It argues that this verse forms an introductory hymn (maṅgala or stuti) praising Śiva and, at the same time, revealing the identity of the compiler of the text—whether genuine or fictively attributed ex post—through a "signature" expressed by means of a Sanskrit word hinting at the name Tanakuṅ, an author of Old Javanese literary and religious works who lived in the 15th century. It then elaborates on the socio-historical and religious background of that period, and links the figure of Tanakuṅ and the texts ascribed to him to Ḍaṅ Hyaṅ Nirartha, an important Balinese religious figure who is believed to have been active on the island between the late 15th and early 16th century.
Artikel ini mengambil titik tolak dari pupuh Sanskerta pertama dari kitab suci Śaiva Sanskerta-Jawa kuno berjudul Bhuvanakośa, yang telah sampai kepada kita dalam manuskrip lontar Bali. Diperkirakan bahwa ayat ini membentuk sebuah himne pengantar (maṅgala atau stuti) dalam memuji Śiva dan, pada saat yang sama, mengungkapkan kepengarangan penulis teks-apakah asli atau fiktif yang muncul secara ex post-melalui "tanda" yang diungkapkan melalui kata Sansekerta yang mengisyaratkan nama Tanakuṅ, seorang pengarang karya sastra Jawa Kuno dan karya-karya agama yang hidup pada abad ke-15. Artikel ini kemudian menguraikan latar belakang sosio-historis dan agama pada periode itu, dan menghubungkan sosok Tanakuṅ dan teks-teks yang dianggap berasal darinya dengan sosok Ḍaṅ Hyaṅ Nirartha, seorang tokoh agama penting Bali yang diyakini aktif di pulau itu antara akhir abad ke-15 dan awal abad ke-16.
Fichier principal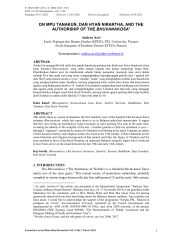 Acri_2022_On_Mpu_Tanakuṅ.pdf (631.41 Ko)
Télécharger le fichier
Origin : Files produced by the author(s)