Alltagserfahrungen und Zukunftsvisionen an der ehemaligen innerdeutschen Grenze. Ethnographischer Rückblick auf zwei ehemals getrennte Dörfer.
Daily experiences and visions of the future on the old intra-German border – Ethnographic re-visiting two villages on both side of the former "iron curtain"
Expérience quotidienne et visions du futur sur l'ancienne frontière interallemande. Revisite ethnographique de deux villages autrefois séparés
Dieser Artikel stellt die ersten Ergebnisse einer Untersuchung vor, die in zwei Dörfern auf beiden Seiten der ehemaligen innerdeutschen Grenze zwischen Thüringen und Bayern durchgeführt wurde. Dabei wird auf das von Valentine Meunier schon in den 1990er Jahren durchgeführte ethnografische Feld zurückgegriffen. Dreißig Jahre nach der deutschen Wiedervereinigung weisen die Wahlergebnisse der letzten Jahre und die lokalen sozialen Praktiken auf das Fortbestehen einer "Phantomgrenze" auf den Verlauf des ehemaligen "Eisernen Vorhangs" hin, trotz der Intensität des täglichen Pendelverkehrs und der Arbeitsbeziehungen zwischen beiden Ländern. Um die Gründe dafür zu beleuchten, befragen wir die Präsenz der ehemaligen Grenze in den Alltagsdiskursen. Wir untersuchen die Mobilisierung der Idee der "Gemeinschaft" in den Praktiken und Diskursen unserer Befragten und wir hinterfragen die Zukunftsvisionen, die je nach territorialer Ebene sehr unterschiedlich zum Ausdruck kommt.
This article presents the first results of a research project conducted in two villages located on either side of the former German border between Thuringia and Bavaria, "revisiting" the ethnographic fieldwork conducted by Valentine Meunier in the 1990s. Thirty years after reunification, the electoral results of the last few years and the local social behaviours point to the persistence of a "phantom border" on the line of the former wall, despite the intensity of daily circulation and work relations. In order to shed light on the reasons for this, we examine the presence of the old border in ordinary discourses; we examine the mobilization of the idea of "community (Gemeinschaft)" in the practices and discourses of our respondents; and we examine the relationship to visions of the future, which is expressed in very different ways depending on the territorial level.
Cet article présente les premiers résultats d'une enquête conduite dans deux villages situés de part et d'autre de l'ancienne frontière interallemande, entre Thuringe et Bavière en « revisitant » le terrain ethnographique conduit par Valentine Meunier dans les années 1990. Trente ans après la réunification, les résultats électoraux des dernières années et les sociabilités locales signalent la persistance d'une « frontière fantôme », sur le tracé de l'ancien Mur, en dépit de l'intensité des circulations quotidiennes et des relations de travail. Pour en éclairer les raisons, nous interrogeons la présence de l'ancienne frontière dans les discours ordinaires ; nous examinons les mobilisations de l'idée de « communauté (Gemeinschaft) » dans les pratiques et les discours de nos enquêté·es ; nous interrogeons les rapports au futur déclinés de façon très contrastée selon les niveaux territoriaux.
Fichier principal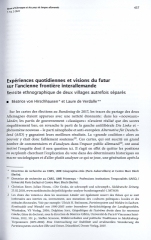 RA_vonHirschhausen_deVerdalle_2022.pdf (7.03 Mo)
Télécharger le fichier
Origin : Publisher files allowed on an open archive