De la foule à la première ligne
The 'participatory' turn of the web in the mid-2000s favored the development of crowdworking platforms. These platforms propose to client companies to break down their data processing activities into micro-tasks and then to entrust them to Internet users who are paid a few cents of euros or dollars. Based on a questionnaire survey conducted on the main French platform (Foule Factory), we show that, behind the theoretical model of a crowd of interchangeable users, there are in fact very heterogeneous uses and profiles. Within the crowd, we distinguish a first line of micro-workers, whose more intensive use of the platform is to be compared with an otherwise much more precarious situation. These results stem from a reflexive analysis of the conditions of a questionnaire survey of a population whose contours are unknown, an analysis that is lacking in most surveys on the subject.
Le tournant « participatif » du web au milieu des années 2000 a favorisé le développement de plateformes numériques de micro-travail. Celles-ci proposent à des entreprises clientes de décomposer leurs activités de traitement de données en micro-tâches, puis de les confier à des internautes rétribués quelques centimes d'euros ou de dollars. À partir d'une enquête par questionnaire conduite sur la principale plateforme française (Foule Factory), nous montrons que, derrière le modèle théorique d'une foule d'utilisateurs interchangeables, se cachent en réalité des usages et des profils très hétérogènes. Au sein de la foule, nous distinguons en particulier une première ligne de micro-travailleurs, dont les usages plus intensifs de la plateforme sont à mettre en regard d'une situation par ailleurs nettement plus précaire. Ces résultats découlent d'une analyse réflexive des conditions d'enquête par questionnaire auprès d'une population dont on ignore les contours, analyse qui fait défaut à la plupart des enquêtes sur le sujet.
Fichier principal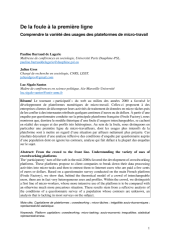 De la foule a la premiere ligne.pdf (774.56 Ko)
Télécharger le fichier
Origin : Files produced by the author(s)