Landscape morphological analysis between archaeology and town and country planning. Urban form and country form studies in Val-d'Oise (France)
L'analyse morphologique entre archéologie, urbanisme et aménagement du territoire. Exemples d'études de formes urbaines et rurales dans le Val-d'Oise
This work explains how historical landscape study can be used for town and country planning.
The morphology studies land allotment, settlement and road networks dynamics. In the first part, we explore the morphological experience in archaeology, geography and town planning. It contains conceptual separation between past & present, form & function, form & flow, local & global scales.
In the second part, we try to exceed these separations between our works in archaeology and town & country planning. In archaeology, our technical choices permit us to change our focus: to past study, it comes to an evaluation of an enriched present by past. In town and country planning, the road network resilience depends of a complex temporal and spatial construction. In third part, we criticize the past form traditional approaches who loose diversity and networks potentials. We propose databases in GIS to develop a knowledge based on forms associations with complexes temporalities.
Ce travail montre l'apport de l'étude archéologique des dynamiques des réseaux de voies, d'habitat et du parcellaire pour l'aménagement du territoire. Dans la première partie, nous montrons que la recherche morphologique en architecture, géographie et archéologie a reposé sur des séparations conceptuelles entre passé/présent, local/global, forme/flux. Dans la deuxième partie, nous tentons de les dépasser par des études à la croisée de l'archéologie et de l'aménagement. En archéologie préventive, les choix techniques ont déplacé le point de vue, de l'évaluation du passé à celle d'un présent enrichi par celui-ci. En aménagement, la résilience des réseaux routiers s'appuie sur une construction spatiale intégrant des temporalités anciennes. Dans la synthèse, nous montrons que les approches traditionnelles sur le passé appauvrissent les potentiels des réseaux. L'utilisation d'un SIG apporte alors des moyens pratiques pour associer des formes aux temporalités complexes.
Fichier principal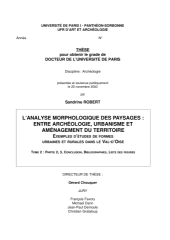 Tome_2.pdf (16.86 Mo)
Télécharger le fichier
liste.pdf (20.58 Ko)
Télécharger le fichier
Tome1.pdf (5.58 Mo)
Télécharger le fichier