Vulnerability and Disaster Risk Reduction face to Hydrological and Health Hazards in Informal Districts of Jakarta, Indonesia.
Vulnérabilité et réduction des risques liés à l'eau dans les quartiers informels de Jakarta, Indonésie. Réponses sociales, institutionnelles et non institutionnelles.
The Jakarta metropolitan area is highly prone to hazards related to water, between the excess of water during floods, the lack of drinking water and pollution. All these factors induce serious health problems. If all social groups are victims of disasters related to water, poor communities from slum areas are particularly vulnerable, especially because of limited means of protection. They tend to adopt hazardous behaviors when they are faced to these threats; they put themselves at risk and often make things worse because of inappropriate practices. Through a geo-ethnographical and social approach, this study first aims at tracking the root causes and underpinning factors of vulnerability, by testing assumptions from two conceptual frameworks of research about risk. The results emphasize the everyday dimension of these disasters which are embedded within a long marginalization process toward resources. Secondly, field investigation and interviews with institutional stakeholders of risk management and urban development allow us to highlight structural management problems replaced within an international framework, inadequate risk reduction strategies, then to understand underlying political issues. Finally, based on a participatory analysis of community-based projects from non institutional stakeholders, we will discuss about the role played by the different stakeholders from the local to the international scale, in order to establish efficient strategies of disaster risk reduction for vulnerable communities.
La métropole de Jakarta est fortement exposée aux menaces liées à l'eau, entre l'excès d'eau lors des inondations, le manque d'eau potable et la pollution de l'eau qui engendrent des menaces sanitaires. Si toutes les catégories sociales sont victimes des catastrophes liées à l'eau, les communautés pauvres des quartiers informels précaires sont particulièrement vulnérables notamment du fait de moyens de protection limités. Elles adoptent des comportements dangereux face aux menaces, auxquelles elles s'exposent et qu'elles aggravent de surcroît par des pratiques inadaptées. Par une approche géo-ethnographique et sociale, cette étude cherche dans un premier temps à mettre en évidence les causes profondes de vulnérabilité, en testant les hypothèses issues des deux paradigmes encadrant la recherche sur les risques. Elle met en exergue la dimension quotidienne des catastrophes et leur ancrage dans un long processus de marginalisation par rapport aux ressources. Dans un deuxième temps, des enquêtes auprès des acteurs institutionnels de la gestion du risque et du développement urbain, remises en perspectives par rapport au contexte international permettent d'appréhender les difficultés structurelles de gestion et l'inadaptation des stratégies de réduction des risques et de comprendre les enjeux politiques sous-jacents qui l'expliquent. Enfin, après une analyse participative de projets développés à l'échelle communautaire par les acteurs non institutionnels, ce travail propose une discussion sur le rôle des nombreux acteurs de l'échelle locale à internationale dans la mise en place de stratégies efficaces de réduction des risques de catastrophe pour les communautés vulnérables.
Fichier principal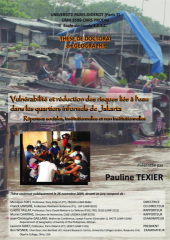 TEXIER_these_16dec2009_leger.pdf (56.13 Mo)
Télécharger le fichier

TEXIER_these_Annexes.pdf (15.8 Mo)
Télécharger le fichier