Landscapes of cheeses : The farmers' perception of landscape, agricultural practices and the relations between the area of production and the PDO cheeses in the mountains of the French regions Auvergne and Franche-Comté
Paysages de fromages : sensibilités au paysage, pratiques des agriculteurs et ancrage territorial des AOC fromagères de moyennes montagnes d'Auvergne et de Franche-Comté.
The objective of this PhD thesis is to analyse the role of the landscape to understand the links between cheeses with a protected designation of origin (PDO) and their area of production. This research was conducted employing a comparative approach between seven typical cheeses from mountainous areas of medium altitude in central and eastern France. We developed a multi-scale analysis,reaching from territory down to farm scale. The farm is the place where the landscape elements which are promoted to the consumers are shaped.The first hypothesis was that seemingly evident relations between landscapes and products are in fact delusive. To verify this, we analysed landscape models presented in promotional documents as well as rules in the product specifications which could have an impact on landscapes, e.g. as a consequence of applied agricultural practices. Results representative on a territorial scale show existing links but the respective underlying mechanism differs between the regions of study.Analysis at farm scale are based on a diversified conception of landscape which takes into account both concrete and symbolic dimensions. At this scale we hypothesised that farmers have a rich perception of the landscapes that influences their practices and, consequently, the presence or absence of emblematic landscape elements on their farm. To analyse these perceptions, we created a specific method of interviews which helped farmers to talk about the landscapes of their farm and about the landscape of the PDO. This method allowed us to show that several farming styles exist, which explain the different strength of links between the cheeses and their area of production.
L'objet de cette thèse est de comprendre le rôle du paysage dans l'analyse de l'ancrage territorial des produits d'AOC en s'appuyant sur l'exemple des AOC fromagères de moyennes montagnes d'Auvergne et de Franche-Comté. La recherche a été menée à partir d'une approche multiscalaire, du territoire d'AOC jusqu'à l'exploitation agricole, lieu de production des objets paysagers mis en image et valorisés dans les supports de communication des filières.Une première hypothèse a été émise, selon laquelle les liens entre produits et paysages sont une fausse évidence. Pour la vérifier, nous avons analysé, à l'échelle des territoires retenus pour l'étude, les modèles paysagers véhiculés dans les documents promotionnels et les règles des cahiers des charges ayant un impact direct ou indirect sur le paysage. Cette première entrée nous a finalement conduit à relever la présence de liens de nature différente entre les régions d'Auvergne et de Franche-Comté.Les analyses menées à l'échelle de l'exploitation agricole se fondent sur une notion de paysage à l'interface des dimensions matérielles (objets) et idéelles (images), et des pratiques agricoles individuelles et collectives. Elles s'appuient en outre sur l'hypothèse de l'existence d'une sensibilité au paysage des agriculteurs qui conditionne les pratiques mises en œuvre dans les exploitations, et, par conséquent, l'absence ou la présence d'objets paysagers emblématiques des produits. Pour que cette sensibilité s'exprime, nous avons élaboré une méthode d'entretien particulière, fondée sur le principe de déconstruction - reconstruction des paysages attachés à des lieux. Au final, la compréhension de ce point de vue paysager et des déterminants des pratiques des agriculteurs nous a conduit à identifier des postures d'agriculteurs relatives à leur métier et à la place de l'animal dans le système. Ces dernières expliquent la force ou la faiblesse des liens entre les images promues et la réalité des systèmes de production.
Fichier principal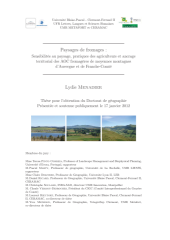 2012CLF20003.pdf (11.9 Mo)
Télécharger le fichier
Origin : Version validated by the jury (STAR)