Randomized controlled trials : rearranging the interaction of social sciences and public action in France?
La méthode expérimentale par assignation aléatoire : un instrument de recomposition de l'interaction entre sciences sociales et action publique en France ?
The start of the XXIst century witnessed an unprecedenteduse of randomized controlled trials to assess public programs across theworld. This scientific method has been championed as the most rigorous toassess the impact of public intervention. It has promoted the use ofscientific evidence by policy makers through the evidence-based policymovement. Therefore, this method is to be understood as a socialinstitution whose aim is to organize a joint learning between policy actorsand scientists. The study of this interaction is the core of this dissertation,which analyzes how stakeholders' memberships to their respective strategicaction fields drive this method's use in France. Through the execution ofthis method, we observe a range of different institutional sites. They aretestimonies of the opposing practices, interests and learning patterns of theactors involved. This dissertation analyses 15 case studies of this method'simplementation in France. It reveals the inherent tensions at work in its useon new social programs, and challenges this method's ability to produce ajoint learning between policy actors and scientists.
Depuis le début des années 2000, le recours à la méthodeexpérimentale par assignation aléatoire pour évaluer les dispositifs publicsconnait un essor mondial sans précédent. Cette méthode scientifique estprésentée par ses promoteurs comme la plus rigoureuse pour estimer l'impactd'une intervention ainsi que la mieux à même de favoriser la prise en comptedes preuves scientifiques par les décideurs politiques. Son utilisation dans lecadre de l'evidence-based policy nous amène à considérer cette méthodecomme un instrument, une institution sociale, visant à organiser unapprentissage commun entre les acteurs de l'action publique et les acteursscientifiques. L'observation de cette interaction constitue le coeur de ce travailde recherche. Ce dernier étudie comment l'inscription de ses parties prenantesdans leurs champs d'action stratégiques respectifs conditionne l'usage de cetteméthode sur le territoire français. Celle-ci se décline alors, en une variété desites institutionnels témoignant des oppositions entre les pratiques, les intérêts,et les modèles d'apprentissages des acteurs la composant. Notre analyse de15 études de cas de son utilisation sur le territoire français, révèle les tensionsinhérentes à l'application de cette méthode sur de nouveaux dispositifsd'intervention sociale, et questionne ses capacités à produire un apprentissagecommun entre acteurs de l'action publique et acteurs scientifiques.
Fichier principal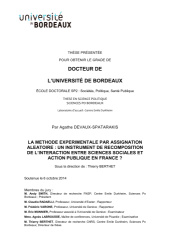 DEVAUX-SPATARAKIS_AGATHE_2014_CORR.pdf (7.24 Mo)
Télécharger le fichier
Origin : Version validated by the jury (STAR)