Cities Development Strategies in Tunisia: Between continuities and breaks of modes of doing urban A comparative analysis of four strategies before and after "the Tunisian Spring"
LES STRATEGIES DE DEVELOPPEMENT DE VILLES EN TUNISIE : ENTRE CONTINUITES ET RUPTURES DES MODES DE FAIRE L'URBAIN. Une analyse comparée de quatre stratégies d'avant et d'après « le Printemps tunisien »
The urbanization of Tunisia has continued to grow in magnitude, resulting in territorial imbalances and the establishment of a planning system whose boundaries have been the subject of several studies. It is in this context that for less than two decades, strategic planning has begun to be introduced in urban action in Tunisia under the name of City Development Strategy (CDS). It is a question of defining a vision for the city which is declined in strategic objectives and whose implementation will be ensured by concrete actions. The development of these SDVs involves the involvement of different actors (public actors, civil society, experts, etc.) and integrated consideration of different dimensions (spatial, economic, social, etc.). Based on the cases of Tunis, Sfax, Sousse and Jendouba whose preparation was done for two of them before the Tunisian Spring, and for the other two after, we propose in this thesis to verify the hypotheses dealing with these SDVs as reflections of governance changes. Based on the cases of Tunis, Sfax, Sousse and Jendouba, we propose in this thesis to verify the hypotheses according to which these CDS would lay the foundations for a renewal of urban planning in Tunisia and would reflect transformations of the urban governance of this country. We questioned the four strategic planning processes of Tunis, Sfax, Sousse and Jendouba through five lines of investigation namely the international dimension of the CDS, their methods of elaboration, the study of the representations, the organizational structures and finally the practice. This work allowed us to arrive at three main results. First, our analyzes have allowed us to conclude that the four processes studied reveal some continuity with certain modes of urban planning that already exist in Tunisia. Then, our analyzes allowed us to conclude also that our four case studies reflect transformations which concerned only well-defined aspects of the modes of doing the city and for very specific fields of application. Finally, the third result that we have reached in our research has shown that our four case studies have brought a revival of the planning of the city in Tunisia and have been at the origin of multilevel changes in urban governance.
L'urbanisation de la Tunisie n'a cessé de prendre des ampleurs qui se traduisent par des déséquilibres territoriaux et l'institution d'un système de planification dont les limites ont fait l'objet de plusieurs travaux. C'est dans ce contexte que, depuis moins de deux décennies, la planification stratégique a commencé à s'introduire dans l'action urbaine en Tunisie sous le vocable de « Stratégie de Développement de Ville » (SDV). Il s'agit de définir une vision pour la ville qui se décline en objectifs stratégiques et dont la mise en œuvre sera assurée par des actions concrètes. L'élaboration de ces SDV prévoit une implication de différents acteurs (acteurs publics, société civile, experts, etc.) et une prise en compte intégrée de différentes dimensions (spatiales, économiques, sociales, etc.). S'appuyant sur les cas de Tunis, Sfax, Sousse et Jendouba dont l'élaboration s'est faite pour deux d'entre elles avant le Printemps tunisien, et pour les deux autres après, nous proposons dans cette thèse de vérifier les hypothèses traitant ces SDV comme reflets de changements de la gouvernance. Nous avons interrogé les quatre processus de planification stratégiques de Tunis, Sfax, Sousse et Jendouba à travers cinq axes d'investigations à savoir la dimension internationale des SDV, leurs modalités d'élaboration, l'étude des représentations, les structures organisationnelles et enfin les pratiques. Ce travail nous a permis d'aboutir à trois résultats principaux. D'abord, nos analyses nous ont permis de conclure que les quatre processus étudiés révèlent des continuités avec certains modes de faire l'urbanisme qui existent déjà en Tunisie et viennent relativiser l'impact du « Printemps tunisien » sur les pratiques de l'urbanisme. Ensuite, nos analyses nous ont permis de conclure aussi que les quatre cas d'étude traduisent des transformations qui n'ont concerné que des aspects bien déterminés des modes de faire la ville et pour des domaines d'application bien précis. Enfin, le troisième résultat auquel nous avons abouti dans notre recherche a montré que les quatre cas d'étude (dont celles conçues avant le « Printemps tunisien ») ont apporté un renouveau de la planification de la ville en Tunisie et ont été à l'origine de mutations à plusieurs niveaux de la gouvernance urbaine.
Fichier principal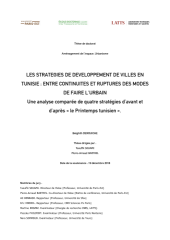 Thèse Belghith DEROUICHE.pdf (33.79 Mo)
Télécharger le fichier
Origin : Files produced by the author(s)