Developing an enterprising spirit among engineering college students : what are the educational factors ?
The purpose of this chapter is to further what can be called the Entrepreneurial Spirit. Indeed these words, although widely used, have not yet been properly defined in the literature as to how it is created, and what precise aspects can be enhanced through teaching activities. It is a matter of suggesting hypotheses in order to build up a model of how an Entrepreneurial Spirit is engendered among newly trained engineers.
Our chapter is divided into four section. The first deals with the question of the definition of the Entrepreneurial Spirit: How does it arise prior to the decision to set up a business? How can the components of an Entrepreneurial Spirit be defined? We suggest a dynamic model. The second section deals with the factors leading to an Entrepreneurial Spirit among young engineers: What is the relevance of the educational background ? What are the possible teaching method variables within engineering college training? The third section presents methodological features of our research. The fourth section presents early results about the projective dimensions of our model of engineering students in 2004. As a conclusion, we present theoretical and practical implications of our research.
Fichier principal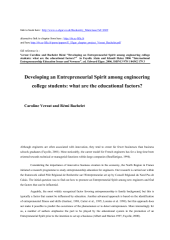 E_Elgar_chapter_Verzat_Bachelet_developing_an_entrepreneurial_spirit_among_engineering_college_students.pdf (270.02 Ko)
Télécharger le fichier