Entre programme et processus : le dynamisme de l'écriture flaubertienne. Quelques points de méthode
Between programme and process : the dynamism of Flaubert's way of writing. Some methodological points.

Taking as its starting point the structural opposition between two great systems of writing ("programmed writing" and "processive writing"), this article seeks to characterise the distinctive rythm of Flaubert's writing winthin his rough drafts. The analysis of this genetic stage brings to light the existence of recurrent ternary structures — or "angular phases". Each one of these constitutes a closed and coherent whole that consistently links the paradigmatic and syntagmatic axes, first in a prospective phase of structural development, then within a more restricted redactional development, and finally in a moment of "recopiage" that includes a retrospective dimension. The identification of the principles and consequences of this interactive alternation allows us to define Flaubert's way of writing as a "dynamic programmed writing".
Partant de l'opposition structurelle existant entre deux grands régimes d'écriture ("écriture à programme" et "écriture à processus"), on cherche à caractériser le rythme particulier de l'écriture flaubertienne au sein des brouillons. Or l'analyse de cette strate génétique révèle l'existence de moments ternaires récurrents — ou "phases angulaires" — dont chacun constitue un ensemble clos et cohérent, articulant avec régularité les axes paradigmatique et syntagmatique, d'abord dans une phase prospective d'élaboration scénarique, puis au sein d'une élaboration rédactionnelle plus restreinte, et enfin dans un moment de "recopiage" comprenant une dimension rétrospective. La mise au jour des principes et des conséquences de cette alternance interactive permet alors de définir spécifiquement l'écriture de Flaubert comme une "écriture à programme dynamique".
Fichier principal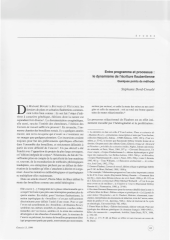 SDC_Genesis_13.PDF (19.02 Mo)
Télécharger le fichier
Origin : Explicit agreement for this submission