Concordanciers : Thème et variations
The computation of a concordance is usually determined by three parameters : the word (or linguistic pattern) to be found, the size of the context given for each token, and the way the extracts should be sorted in order to facilitate the analysis. The power of this technic lies in the visual effects it creates by aligning and grouping the contexts through the centered-column presentation and the sorting of the lines. These principles can be generalized and extended : the pattern to be found can be decomposed into several zones, and each of them can be aligned as a column, or/and can be sorted.
We illustrate these proposals by the implementation of a concordancer (KWAC-LLI) specialized for corpus linguistics in a distributional semantics approach. The corpus can be analysed according to four strategies, based on the syntagmatic or paradigmatic relation between predicates and arguments. The specialized concordancer tests two new features. The first one is a table which gives a global view of the concordance, with hypertext access to the detailed contexts. The second new feature is a linguistic sort, directly derived from the "classe d'objets" theory.
Le calcul d'un concordancier se définit classiquement par trois paramètres : l'expression d'un pivot, la délimitation du contexte donné pour chaque occurrence relevée du pivot, et l'organisation des extraits par un tri facilitant le dépouillement. L'efficacité propre à cette technique tient essentiellement aux effets d'alignement et de regroupement issus de la présentation du pivot sur une colonne et des tris sur le pivot et son environnement. Nous proposons donc une généralisation de la technique des concordances avec l'articulation interne du pivot en plusieurs zones, focalisant et démultipliant les possibilités d'alignement et de tri.
Nous prenons appui sur cette réflexion pour développer un concordancier (KWAC-LLI) adapté aux besoins linguistiques d'une sémantique distributionnelle, en l'occurrence la théorie des classes d'objets. Une combinatoire de quatre stratégies d'exploration de corpus peut être ainsi outillée, selon que l'on part de prédicats ou d'arguments pour rechercher d'autres prédicats ou d'autres arguments. Le concordancier s'enrichit dans ce contexte de deux innovations significatives : la présentation globale et synthétique des résultats sous forme de tableau hypertexte, et le tri des lignes du tableau traduisant directement un critère de pertinence linguistique donné par la théorie des classes d'objets.
Fichier principal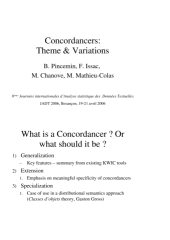 pincemin_al_jadt06_graph.pdf (635.89 Ko)
Télécharger le fichier
pincemin_al_jadt06_texte.pdf (526.85 Ko)
Télécharger le fichier
Origin : Files produced by the author(s)
Origin : Files produced by the author(s)