La diète parfaite d'un lettré retiré sous les Song du Sud
Since Antiquity meat was in China both the symbol of greediness and, represented
with vegetables and fruits, a necessary part of the diet based on cereals. For those
who could afford to eat more than gruels of corse grains or light vegetable broths,
the possibility of including various meat and fish products in the ordinary fare was
also a way to express wealth and social status. The fasting of méat was ritualized
and accepted in certain circumstances, for instance, for funerals or religious
purposes. Under the Song Dynasty a kind of "fast cuisine," which nevertheless
allowed a small proportion of animal products, was systematized and proposed as a model diet for those literati who were not directly engaged in world affaire and
preferred to live retired or even secluded. The most famous recipes book for this
cuisine is the Shanjia qinggong by Lin Hong (fl. 1241-1252) which contains 104
refined recipes based essentially on "mountain products" composed mainly of wild
plants, vegetables, cereals, and less often of some venison. Thèse were to be prepared
when receiving friends. In this article the author tries to understand how this
altogether hygienic and moralistic type of cuisine imposed itself from Song Dynasty
on as the external sign of a voluntary adhésion to a virtuous, healthy, and plain life,
constrasting with the "somptuous" way of life of the ordinary literati engaged in
politics.
Élément indispensable aux côtés des fruits et des légumes d'un régime alimentaire
fondé sur les céréales, la viande était en Chine un véritable symbole de gourmandise
depuis l'Antiquité. Ceux qui avaient les moyens de manger autre chose que
des bouillies de céréales ou des potages de légumes et qui pouvaient se permettre
des plats riches et carnés manifestaient ainsi leur opulence et leur appartenance à
la classe aisée. S'il leur arrivait de s'abstenir de chair, leur abstinence était ritualisée,
en particulier dans certaines circonstances, en signe de deuil ou pour marquer
une adhésion à une éthique religieuse. A partir des Song, un style de cuisine dit
« maigre » fut systématisé et proposé à titre de régime alimentaire pour certains
lettrés qui n'avaient aucune fonction officielle et avaient choisi de vivre retirés du
monde. Le texte le plus célèbre consacré à cette cuisine, intitulé Shanjia qinggong
(Les vivres simples du montagnard) et écrit par Lin Hong (actif 1241-1252), contient
cent quatre recettes raffinées à base de « produits de la montagne », essentiellement
des plantes sauvages, des légumes, des céréales et quelques gibiers. La
plupart des plats proposés étaient préparés pour recevoir des amis. Dans cet article,
l'auteur essaie de comprendre comment cette cuisine, à la fois hygiéniste et
morale, s'est imposée à partir des Song, comment elle fut interprétée comme le
signe extérieur d'une adhésion volontaire à un mode de vie vertueux, sain et simple,
en opposition avec les habitudes somptuaires et ostentatoires des lettrés ordinaires
assumant des responsabilités officielles.
Fichier principal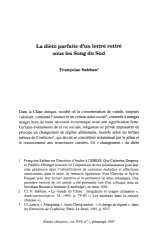 Sabban_Diete_parfaite.pdf (2.3 Mo)
Télécharger le fichier
Origin : Explicit agreement for this submission