La régionalisation ferroviaire : architecture conventionnelle et modes de gouvernance
The regionalisation of the rail sector: contractual structure and management methods. – Since January 2002, following the SRU Law, the metropolitan regions (with the exception of the Paris Region and Corsica) enjoy all of the prerogatives of an organisational authority (OA) for collective regional passenger transport. Although the law introduces common measures, a great deal of room for manoeuvre remains concerning the contractual autonomy of the parties concerned. Have the regions made the best of this contractual autonomy? To what extent? In what form? In which field? The purpose of this article is to assess the regional/SNCF management methods in view of the analyses of the subcontracting operations. We will begin with the hypothesis that the contractual region/SNCF relationship may be likened to a special subcontracting relationship similar to co-contracting, the regions playing the role of the prime contractor and the SNCF that of the single contractor. This may also be considered a special subcontracting relationship due to the fact that for the time being the SNCF is the only available partner. Following an overview of the types of management theoretically possible, we will present the characteristics of the contractual organisation of relationships between the SNCF and each of the seven regions participating in the experiment, via the agreements concluded in 2002.
----------------------------------------------
With the Author and the publisher of the copyright agreement. The present version in PDF is under the copyright of EDITECOM (http://www.editecom.com/) - 2004.
Depuis janvier 2002, suite à la loi SRU (1), les Régions métropolitaines (à l'exception de l'Ile de France et de la Corse), exercent la totalité des prérogatives d'autorité organisatrice (AO) pour le transport collectif d'intérêt régional de voyageurs. Si la loi met en place des dispositions communes, une large place est laissée à l'autonomie contractuelle des parties. Les Régions ont-elles mis à profit cette autonomie contractuelle? Dans quelle mesure? Sous quelle forme? Dans quels domaines? L'objet de cet article est de rendre compte des modes de gouvernance Région/SNCF à la lumière des analyses de la sous-traitance. Nous partirons de l'hypothèse que la relation contractuelle Région/SNCF peut être assimilée à une relation de sous-traitance particulière, proche de la cotraitance (2), les Régions étant dans le rôle de donneur d'ordre et la SNCF de sous-traitant unique (3). Relation de sous-traitance, particulière encore, par le fait que, pour l'instant, la SNCF se présente comme le partenaire obligé. Après un exposé des types de gouvernance théoriquement envisageables, nous présenterons les caractéristiques de l'organisation contractuelle des rapports entre la SNCF et chacune des sept régions expérimentatrices (4), à travers les conventions conclues en 2002.
Fichier principal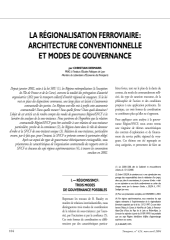 Transports_424.pdf (1.42 Mo)
Télécharger le fichier
Origin : Explicit agreement for this submission