Enseigner la France en géographie aux jeunes écoliers (1788-2008)
For the last two centuries, the ways of teaching geography of France to the young French pupils from 9 to 11 years old have known many transformations. The objectives and the finality have changed. These transformations result from the general changes in pedagogical methods at school, but also from the particular changes of how the French conceive their own territory and national identity.
Since the beginning of the 19th century Geography taught in primary schools differs from the geography made for colleges and high schools, which has remained for a long time within the tradition of historical geography from the Ancient time to the modern period. At the end of the 19th century the 3rd French Republic put France and its colonies as the centre and the horizon of the geography studies. Geography at school was a main way to build up a national identity.
In the 20th century, and more particularly during the sixties, thanks to the development of new media, space as perceived by young children became wider and more various. New curricula have been opened to new spatial dimensions: Europe and the world. The building of a national identity blends with regional, European and world wide scalar levels. Even if the latest curriculum is more focused on France.
L'évolution de la façon dont la géographie de la France est présentée aux petits Français âgés de 9 à 11 ans montre les transformations des méthodes pédagogiques, en particulier celles en usage dans la leçon de géographie ; elle témoigne des transformations des finalités de l'enseignement de la géographie à l'école élémentaire et reflète autant l'évolution de l'espace français que la façon dont les Français pensent leur territoire.
La géographie destinée aux élèves des écoles communales se différencie d'emblée des savoirs géographiques enseignés dans l'enseignement secondaire en rompant d'emblée avec la tradition de la géographie historique. La IIIe République fait ensuite de la France et de ses colonies l'horizon de la géographie de l'école primaire et le cadre identitaire des jeunes français. Depuis les années soixante l'espace perçu par les jeunes enfants via les différents médias s'est considérablement élargi et diversifié et les programmes scolaires se sont ouverts sur l'Europe et le monde, associant la construction de l'identité nationale avec d'autres niveaux scalaires de référence : la région, l'Europe, le monde ; même si le dernier programme est plus centré sur la France.
Fichier principal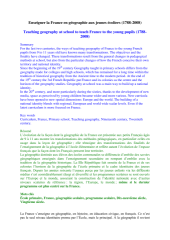 France_primaire_v7.pdf (542.21 Ko)
Télécharger le fichier
Origin : Publisher files allowed on an open archive