"Frontières de développement en Syrie. L'adaptation du projet ba`thiste aux logiques tribales dans le front pionnier de la Jazîra"
The Jazîra is a transborder steppic area located between the Tiger and the Euphrates. Divided between Turkey, Syria and Irak, it became in the seventies an agricultural pionneer front with the implementation of huge hydraulic projects : the Great Anatolian Project (GAP) in Turkey, The Euphrates Project in Syria, Al Haditha dam in Irak. This article focuse on the Euphrates Project in the syrian governorate of Raqqa. It points out the ideological gap between the ba`thist and panarab project, and the local tribal societies which ideology is based on honor and search for autonomy. This ideological gap was « a development frontier » in the Syrian East. The regime had to adapt to the dominant tribal logics in the Jazîra. But it was a dialectic process : for tribal solidarities reapeared even amongst ba`thist societal structures.
La Jazîra est un espace steppique transfrontalier situé entre le Tigre et l'Euphrate. Divisée entre la Turquie, la Syrie et l'Irak, elle s'est transformée, à partir des années 1970, en front pionnier agricole par la mise en œuvre de vastes projets hydrauliques : Grand Projet Anatolien en Turquie (GAP), Projet de l'Euphrate en Syrie, barrage d'Al Haditha en Irak. L'article étudie la mise en œuvre du Projet de l'Euphrate dans le gouvernorat syrien de Raqqa. Il fait apparaître le différentiel idéologique entre un projet politique ba`thiste nourri d'idéaux panarabes et socialistes, et des sociétés structurées en tribus - dont l'idéologie se fonde sur l'honneur et la quête de l'autonomie. Ce différentiel idéologique a constitué une « frontière de développement » dans l'Est syrien. Le régime a ainsi dû s'adapter aux logiques tribales dominantes en Jazîra. Mais cette adaptation a été dialectique, des solidarités tribales se recréant au sein même des structures ba`thiste d'encadrement de la société.
Fichier principal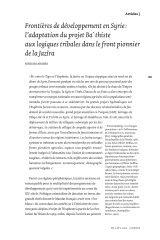 A_Contrario-Ababsa.pdf (79.83 Ko)
Télécharger le fichier
A_Contrario_-couverture.pdf (84.46 Ko)
Télécharger le fichier
Origin : Explicit agreement for this submission