Différence entre autisme et « psychose infantile » :
déficits d'unité vs d'identité de la situation ?
Although today invisible and dilute into the "autistic spectrum", difference between Kanner's
autism and "infantile psychosis" (or "préspsychose") is however clinically certified and regular.
Therefore it seems necessary, irrespective of the question of etiology, to understand the
opposition between these two disorders and to state more precisely their respective and specific
manifestations. From the analogy with two separate kinds of agnosia, we present here in
this first step the assumption that they consist in disorders of, respectively, unity and identity
of the lived situation (corporal and environmental).
Unity's disorder in autism seems to impair the delimitation of experiential hazards and shows
itself in "negative" (or deficient) symptom of isolation ; preservation or identity shows itself
in "positive" (or compensatory) symptom of sameness, meaning excessive identity. Event,
internal or external, is not considered in its complexity or cohesiveness but only in its coherence.
In "infantile psychosis", inversely, the disorder impairs the discrimination of experiential variations
and shows itself in "negative" symptom of confusion ; preservation of unity shows
itself, in the other hand, positively, in invasion and fusion / fragmentation, meaning excessive
unity. The situation is not considered this time like homogeneous, coherent, but only in his
cohesiveness.
Clinical and critical discussion of this hypothesis is supported on analogous propositions of
authors of different theoretical approachs, like M. Mahler, F. Tustin, U. Frith and, particularly,
M. Lemay : his recent proposition of respective disorder of integration and modulation
seems to be close to our.
Bien que nosographiquement aujourd'hui invisible et diluée dans le « spectre autistique », la
distinction entre autisme de Kanner et « psychose infantile » (ou prépsychose) est pourtant
cliniquement attestée et régulière. Il apparaît donc nécessaire, indépendamment de la question
de l'étiologie, de comprendre l'opposition entre ces deux troubles et d'en préciser les manifestations
cliniques spécifiques respectives. À partir de l'analogie avec deux types distincts
d'agnosie, nous présentons ici, dans cette première étape, l'hypothèse qu'il s'agit de deux
troubles respectivement de l'unité et de l'identité de la situation vécue (corporelle et environnementale).
Le déficit d'unité dans l'autisme atteint la délimitation des aléas de l'expérience et se traduit
par le symptôme « négatif » (ou déficitaire) de l'isolation ; la préservation de l'identité se manifeste
elle par le symptôme « positif » (ou compensatoire) de l'immuabilité, autrement dit
d'une identité excessive. L'événement, interne ou externe, n'est plus appréhendé dans sa
complexité ou dans son aspect cohésif, mais seulement dans sa cohérence.
Dans la « psychose infantile », inversement, le déficit atteint la discrimination des variations
de l'expérience vécue et se traduit par le symptôme négatif de la confusion ; le maintien de
l'unité se manifeste lui, « positivement », par un envahissement et une fusion / fragmentation,
autrement dit par une sur-efficience de l'unité. La situation n'est plus appréhendée cette fois
comme homogène ou cohérente, mais seulement dans sa cohésion.
La discussion clinique et critique de cette hypothèse prend appui sur les propositions analogues
d'auteurs d'obédiences théoriques différentes tels que M. Malher, F. Tustin, U. Frith et,
particulièrement, M. Lemay dont les propositions récentes de troubles respectifs de
l'intégration et de la modulation semblent proches de nos propres hypothèses.
Fichier principal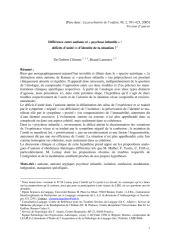 2005_Difference_autisme_et_psychose_infantile.pdf (101.48 Ko)
Télécharger le fichier
Origin : Files produced by the author(s)