STRUCTURES INTERNES CLAVICULAIRES CHEZ PAN, GORILLA ET HOMO.
This study presents the preliminary results of an examination of internal clavicular structures using CT scan data analysis. The complex morphology of this bone makes the determination of a reproducible CT slice plane impossible and so any classical analysis of the two-dimensional CT data is ruled out. We propose a new protocol which enables quantification in three dimensions of the variations in volume of the internal morphological structures of the clavicles.
These are divided into three distinct groups (porosity, low density structures and high density structures) according to their radiological density. The first results show that the high density structures are represented by a larger volume than the low density structures. Moreover, chimpanzee clavicles are characterized by a relative volume of high density bone structure superior to that of gorillas and humans. For a quarter of chimpanzees, this is characterized by an absence of low density structures at the inflexion point of the acromial curvature. These differences can be interpreted as adaptations to the strains
to which the clavicles are subjected.
Ce travail présente les résultats préliminaires d'une étude sur les structures claviculaires internes, par l'intermédiaire
du scanner à rayon X. La morphologie complexe de cet os rend impossible la détermination d'un plan de coupe similaire et reproductible d'un individu à l'autre et interdit ainsi toute analyse classique des données scanographiques
bidimensionnelles. Nous proposons un protocole inédit permettant de quantifier de manière précise et répétitive les variations volumiques en trois dimensions des structures morphologiques internes des clavicules. Celles-ci sont dissociées en trois ensembles distincts (structures osseuses denses, structures osseuses peu denses et porosité) en fonction de leur densité radiologique. Les premiers résultats montrent que les structures osseuses denses sont représentées par un volume plus important que les structures osseuses peu denses. De plus, les clavicules de chimpanzé sont caractérisées par un volume relatif des structures osseuses denses plus important que chez les gorilles et les hommes. Ceci s'exprime, entre autres, chez un quart des chimpanzés, par une absence des structures osseuses peu denses au point d'inflexion de la courbure acromiale. Ces différences peuvent être interprétées comme des adaptations aux contraintes subies par les clavicules.
Fichier principal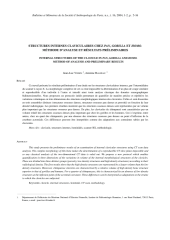 2004_voisinBalzeau_clav_BMSAP.pdf (1.17 Mo)
Télécharger le fichier
Origin : Explicit agreement for this submission