Les niveaux moustériens de la grotte de Saint-Marcel (Ardèche)
The Saint-Marcel cave yielded more than 10 Mousterian levels and almost 5000 lithic artefacts. Some levels provide a vast amount of information and show the use of the discoid type of knapping. This kind of exploitation has never really been described in this part of France for the late Mousterian. Discoid cores have long been observed in the Ardèche Middle Palaeolithic but always linked with Levallois cores. The practice of two knapping systems or a final discoidal exploitation on Levallois cores were often proposed as a hypothesis. In Saint-Marcel, all the knapping is aimed at obtaining thick flakes, with a larg platform, sometimes with a back. A comparison with other sites of the district and other examples of discoidal knapping show the originality of the different occupations.
La grotte de Saint-Marcel a livré plus d'une dizaine de niveaux moustériens et au total près de 5000 pièces lithiques. Certains niveaux sont très riches et permettent de mettre en évidence la pratique d'un débitage s'apparentant à la famille discoïde. Ce type de débitage n'a jamais vraiment été décrit dans la région pour les Moustériens récents et surtout n'avait jamais été constaté comme l'objectif technique majeur des tailleurs. Des nucléus "discoïdes" ont été depuis longtemps décrits dans les séries du Paléolithique moyen ardéchois mais toujours associés à des nucléus Levallois. La coexistence de deux schémas de débitage ou une exploitation finale de nucléus Levallois étaient souvent retenues comme hypothèse. A Saint Marcel, tout le débitage est orienté de manière à produire des éclats épais, à talon large et épais, parfois débordants. Une comparaison avec les autres sites de la région et d'autres exemples de débitage discoïde met en valeur la part de l'originalité des occupations de la cavité.
Fichier principal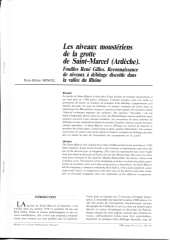 saintmarcelmoncel.pdf (15.34 Mo)
Télécharger le fichier
Origin : Explicit agreement for this submission