LES RESTES HUMAINS DE LA GROTTE DE L'ADAOUSTE DU
NEOLITHIQUE ANCIEN FINAL (BOUCHES DU RHÔNE, FRANCE) :
CANNIBALISME OU RITUEL FUNERAIRE ?
The Adaoust cave is located in southeastern France, in Provence, on the left bank of the Durance River (commune de Jouques, Bouches-du-Rhône). This Pliocene karstic network contains a stratigraphic sequence of human occupation from upper Paleolithic to Chalcolithic. The excavation of Neolithic deposits revealed human remains at two levels. In the epicardial level (ancient Neolithic) an
inhumation in a fosse contained the complete skeleton of an old woman without any cutmarks on bones. The upper level is dated from end of ancient Neolithic (Pré-Chasséen) (C14, wood coal, 7219-6903 BC, cal. 1 sigma). Some human remains with intentional fractures and cut marks on someone had been discovered. The human remains are five fragments of mandible, five fragments of maxillary and a phalanx belonging to more than 5 people of different age (one adolescent, two young adults, two adults) with the same state of conservation than the animal bones of the site. Some cut marks are clearly visible on the external side of the ascending ramus of each fragment of mandible with a near horizontal direction and on the left side of the mental protuberance of one mandible. This cut marks are characteristic of defreshing bone action. No one cut marks are present on maxillary and phalanx fragment. No percussion impact scars are observed. These human
bones had been broken after they have been defleshed; some cut marks are interrupted by the fracture. Similar ground and calcite deposits on cut marks and sections. This archeological level contains few material but of rare quality as calcareous bangle, scissors in bone. Some
human bones were in a small fosse full with ashes and associated to millstone, a red colored pebble and some wild boar bones. The similarity of chronological, archeological and anthropological data with Fontbregoua Neolithic cave, less than 60 Km far, for which an
interpretation of cannibalism had been proposed, imply a cultural proximity of these two Neolithic groups. We discuss the hypothesis of the existence of a funeral burial practice than cannibalism in middle Neolithic groups in the southeastern France.
La grotte de l'Adaouste est située sur la rive gauche de la Durance, en Provence, dans le sud-est de la France. Au sein d'un karst pliocène, a été retrouvée une séquence stratigraphique allant du Paléolithique supérieur au Chalcolithique. Les niveaux néolithiques ont livré des restes humains. Le niveau le plus ancien, phase épicardial du Néolithique ancien, contenait une sépulture en fosse. La découverte dans les niveaux attribués au Néolithique ancien évolué (C14 sur charbon de bois, 7219-6903 BC, cal. 1 sigma), de restes humains présentant des fracturations et des stries de découpe nous conduit à rediscuter la signification de ces actions humaines au Néolithique ancien final en Provence à la lumière de ces nouvelles données. Les restes humains comprennent des fragments crâniens (mandibule et maxillaire) et une
phalange, correspondant à un nombre minimal de 5 individus (un adolescent, deux jeunes adultes, deux adultes), dans le même état de conservation que les os de faune. Des stries de découpes sont nettement visibles sur les mandibules et les protubérances mentonnières, mais
sont absentes des fragments maxillaires et de la phalange. Aucune trace de percussion n'est visible. En revanche, certains os humains ont été fragmentés après qu'ils aient été décharnés et désarticulés ; des stries sont en effet interrompues par des fractures et des dépôts de calcites similaires recouvrent les stries et les sections osseuses. Ce niveau contient peu de matériel archéologique mais il est d'une rare qualité, comme à Fontbrégoua, site distant d'environ 60 Km et pour lequel une hypothèse de cannibalisme avait été proposée, ce qui implique une convergence également culturelle entre ces deux groupes néolithiques, proches dans le temps et dans l'espace. Nous proposons l'hypothèse d'un rituel funéraire plus que d''un cannibalisme au néolithique ancien final en Provence pour expliquer de telles similitudes.
Fichier principal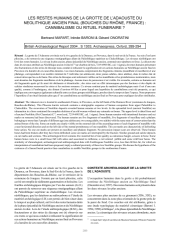 cannibalism_Adaouste_mafart.pdf (623.71 Ko)
Télécharger le fichier
Origin : Explicit agreement for this submission