Creative misreading and bricolage writing: A structural appraisal of a poststructuralist debate
In a now much read critique, Derrida claimed to show the weakness and the supposed contradictions of Lévi-Strauss's interpretation of writing and his characterization of modern industrial society by the pathology of written communication. Lévi-Strauss is tweaked, however, for everything at odds with what is normally understood as Lévi-Straussian analysis. It has been my contention to argue that, by misconstruing Lévi-Strauss's actual theoretical and epistemological contribution to general knowledge, Derrida's attack seems to be what exactly 'lit-crit' deconstructionism is all about, which in the last analysis turns into an arrogant scholastics that only ignorance or deliberate misinformation could allow. Often serious scholars who are determined to understand the right meaning of a text, for instance, may give their benevolent approval to readers to engage in creative misreading and intellectual bricolage, but they also firmly launch a determined diatribe against the skeptical attitude of Derrida's tricks and gimmicks.
Dans une critique déjà trop lu, Derrida a prétendu montrer la faiblesse et les contradictions supposées de l'interprétation de l'écriture par Lévi-Strauss et de sa caractérisation de la société moderne industrielle en fonction de la pathologie de la communication écrite. Lévi-Strauss est cependant tordu pour paraître en désaccord avec tout ce qui est normalement entendu comme analyse lévi-straussienne. En mal interprétant la contribution théorique et épistémologique réelle de Lévi-Strauss à la connaissance générale, l'attaque de Derrida semble être exactement ce que le déconstructionisme 'crit-lit' est en effet, c'est-à-dire, en dernière analyse, une scholastique arrogante que seule l'ignorance ou la désinformation délibérée pourrait permettre. Souvent les spécialistes sérieux et déterminés à comprendre la bonne signification d'un texte, par exemple, peuvent donner leur approbation bienveillante aux lecteurs qui s'engagent dans une interprétation erronée créatrice et le bricolage intellectuel, mais en revanche ils lancent aussi un diatribe ferme et déterminé contre l'attitude sceptique des mauvais tours et trucs tristement célèbres de Derrida.
Fichier principal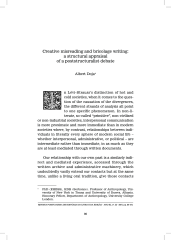 WritingDebate.pdf (495.48 Ko)
Télécharger le fichier
Origin : Explicit agreement for this submission