'Oft turning others' leaves' : la contrainte de l' imitatio dans les sonnets anglais des XVIe et XVIIe siècles
In the sixteenth and the seventeenth centuries, imitation was not usually considered a constraint by poets. Yet Sir Philip Sidney, in his sonnet cycle Astrophil and Stella, seems to advocate a new form of poetic writing based on personal experience and originality, even if he uses the traditional device of impossible love imitated from Petrarchan sonneteers. Stella appears as a new constraint, and her absence and coldness trigger a reflection on the impossibility to write.
L'application des notions de code et de contrainte à la poésie anglaise des XVIe et XVIIe siècles paraît à première vue aller de soi, puisque la littérature de cette époque est fondée sur l'imitation de codes et de topoï. Sir Philip Sidney, dans son recueil de sonnets Astrophil and Stella, semble pourtant amorcer une révolte poétique contre cette obligation. Néanmoins, il se conforme à une nouvelle contrainte, celle de la poésie pétrarquienne1 de l'amour impossible, exprimée dans les poèmes par une réflexion sur l'écriture poétique qui semble vouée à l'échec.
Fichier principal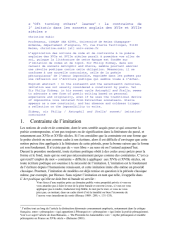 Varia2009-2_C.Sukic.pdf (61.82 Ko)
Télécharger le fichier
Origin : Explicit agreement for this submission