Hacia Otra Economía en América Latina: el papel de la economía social
During the last decade, new political, social, economic and cultural processes have emerged and have been developing in Latin America in response to the neoliberal economic model consequences; poverty increase, exclusion, inequalities and unemployment, as well as precarious employment and a deterioration of nature. Latin American people have elected new governments, which present alternative proposals that aim at transforming the economic (under)development model. Building a new political-social-economic paradigm is a complicated but necessary challenge. Many countries have used Social Economy concept (communitarian, popular, solidarity) to propose this other economy. In first place, this paper discusses a new theoretical benchmark identifying different approach. Secondly, the article analyzes how some Latin American countries have implemented this other economy, paying closer attention to two groups of countries, Bolivia and Ecuador, and Brazil and Argentina.
En la última década, se han desarrollado en Latinoamérica nuevos procesos políticos, sociales, económicos y culturales en respuesta a las consecuencias del modelo económico neoliberal vigente en los años ochenta y noventa: aumento de la pobreza, exclusión, desigualdades, desempleo, precarización de las condiciones de trabajo y erosión de la naturaleza. La población ha elegido nuevos gobiernos que presentan plataformas alternativas con el objetivo de cambiar su modelo de (sub)desarrollo económico. La construcción de un nuevo paradigma político-social-económico es un reto complicado pero necesario. Muchos países han optado por la utilización del concepto de Economía Social (comunitaria, popular, solidaria) para proponer esa otra economía. Este artículo discute, en primer lugar, el concepto de economía social, proponiendo un nuevo marco teórico para clasificar sus diferentes enfoques. En segundo lugar, analizamos cuánto se ha llevado a cabo a la práctica de esta otra economía propuesta en algunos países de América Latina, prestando especial atención a dos bloques diferentes de países: Bolivia y Ecuador, y Brasil y Argentina.
Fichier principal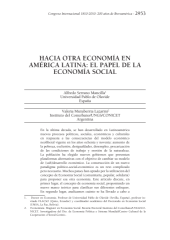 AT20_Serrano-Mutuberria.pdf (139.42 Ko)
Télécharger le fichier
Origin : Explicit agreement for this submission