The curved relationship between subjective well-being and age
This article is concerned with a body of work on happiness and age represented by important papers such as Mroczek and Kolarz (1998) and Mroczek and Spiro (2005). Using a large British data set, the paper presents new longitudinal evidence. It also points out that, perhaps unknown to many psychologists, a parallel literature on this topic exists in economics journals. The paper shows that subjective well-being follows a U-shape through the life course. We argue that eventually the two literatures will have to be made consistent with one another, and suggest that, although it is not easy to live in both worlds, with their different styles and conventions, economists and psychologists still have much to learn from one another.
Cet article réagit à un courant de recherche récent sur le bien-être et l'âge, dont deux exemples importants sont Mroczek et Kolarz (1998) et Mroczek et Spiro (2005). Nous présentons de nouveaux résultats, à partir de données de panel britanniques. Nous signalons aussi, peut être à l'insu de nombreux de psychologues, l'existence d'une importante littérature en économie montrant une relation en forme de U entre bien-être subjectif et âge. Les résultats de cet article confirment cette relation en forme de U. Notre conclusion générale est que nous devrions essayer de rendre cohérentes les conclusions des travaux économiques et psychologiques; malgré des différences de style, économistes et psychologues ont beaucoup à apprendre les uns des autres.
Fichier principal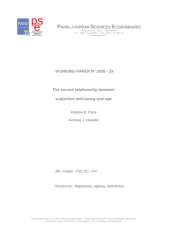 wp200629.pdf (74.34 Ko)
Télécharger le fichier
Origin : Files produced by the author(s)