Recherche sur la tradition textuelle et manuscrite de la lettre de Siméon de Beth Arsham
Research on the composition and transmission of the first document about the persecution of Himyarite Christians and the relations between the longer text edited by Guidi and the shorter ones (in chronicles of Pseudo-Zacharia and Zuqnin). The study of preserved manuscripts shows also that it was mainly copied in the Oriental Syriac tradition, which is curious as it is definitly a myaphisite document.
Étude sur la composition et la transmission du premier document du dossier relatif au martyre des chrétiens himyarites, et sur les rapports de dépendance entre la version longue (lettre éditée par Guidi) et les versions courtes (transmises par la chronique du Pseudo-Zacharie et celle dit de Zuqnin). L'étude de la tradition manuscrite montre en outre que ce texte a surtout été recopié dans des manuscrits syro-orientaux, ce qui est particulièrement curieux s'agissant d'un récit à très forte connotation miaphysite. Bar Sahdé qui a vécu au tout début de la période islamique semble avoir été le vecteur de ce passage dans la littérature hagiographique orientale.
Fichier principal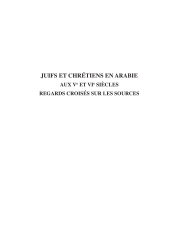 2010.Briquel-Chatonnet_colloque-NajrA_n.pdf (1.01 Mo)
Télécharger le fichier
Origin : Explicit agreement for this submission