Place de la phonétique dans la revue La voix parlée et chantée
The orthoepic, developmental, clinical, articulatory, perceptual, psychological, historical, acoustical and experimental phonetics are discussed in 18.4% of the articles in La voix parlée et chantée. This journal reveals the opinions of its authors in favour of the close links between voice and speech on the one hand, between speech and singing on the other hand. Corrective phonetics occupies a third of pages written about the study of speech sounds, followed by the diction in the theatre and singing (29%) and its teaching (10%), while the new experimental phonetics occupies one-fifth, and the historical phonetics the tenth. The best place is given to diction whose places of education still abounded at the period of the publication of this journal.
Les phonétiques corrective (orthoépie), développementale, clinique, articulatoire, perceptive, psychologique, historique, acoustique et expérimentale sont évoquées dans 18,4% des articles de La voix parlée et chantée. Cette revue révèle l'opinion de ses auteurs en faveur de l'étroitesse des liens existant entre voix et parole d'une part, entre parole et chant d'autre part. La phonétique corrective occupe un tiers des pages écrites sur l'étude des sons de parole, suivie de la diction dans le théâtre et dans le chant (29%) et de son enseignement (10%), tandis que la phonétique expérimentale alors naissante en occupe un cinquième, et la phonétique historique le dixième. Une place de choix est donnée à l'élocution dont les lieux d'enseignement foisonnaient encore à l'époque de la publication de cette revue.
Fichier principal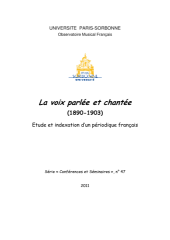 Pillot_Loiseau_2011_Phonetique_OMF.pdf (927.38 Ko)
Télécharger le fichier
Origin : Explicit agreement for this submission