l'opérateur territorial, vecteur du changement
Several works on different territorial resources such as tourism, culture and heritage, Information Technology and Communication, highlight their ability to act on other resources. They intervene in different ways at different stages of their construction. Emerge and the concept of territorial operator that should be characterized as an object of specific research field of the territorial economy. This paper refines this notion of territorial operator by offering a characterization, and identifying transactions that could contribute to the construction of the territorial resource. An empirical approach applied to the cluster of companies "The articulteurs" on the country of Redon and Vilaine precise the questions. Finally, the approach should be developed on other cases, based on a grid of characterization, to deepen understanding of the evolution of territorial organizations, at the conjunction of global changes.
Différents travaux menés sur différentes ressources territoriales telles que le tourisme, la culture et le patrimoine, les Technologies de l'Information et de la Communication, mettent en évidence leur capacité à agir sur d'autres ressources. Elles interviendraient selon des modalités diverses, à différents stades de sa construction. Ainsi émergerait la notion d'opérateur territorial qui mériterait d'être caractérisée en tant qu'objet de recherche spécifique au champ de l'économie territoriale. Le présent papier précise cette notion d'opérateur territorial, en en proposant une caractérisation, et en identifiant des opérations susceptibles de contribuer à la construction de la ressource territoriale. Une approche empirique appliquée à la grappe d'entreprises " Les articulteurs " sur le pays de Redon et Vilaine précise les questionnements. Au final, la démarche mérite d'être développée sur d'autres cas, reposant sur une grille de caractérisation, afin d'approfondir la compréhension de l'évolution des organisations territoriales, à l'heure de la conjonction des changements globaux.
Fichier principal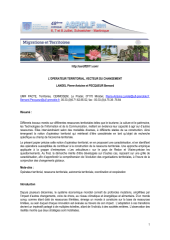 Landel_Pecqueur_ASRDLF2011_VF_.pdf (221.42 Ko)
Télécharger le fichier
Origin : Files produced by the author(s)